Father Erikson named pastor in Sudbury
---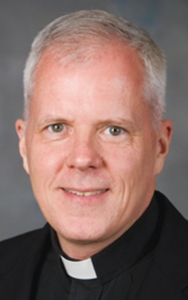 Father Richard Erikson Pilot file photo
Help us expand our reach! Please share this article
SUDBURY -- After more than a quarter century of ministry to the Church throughout the world, Father Richard Erikson is happy to have a new home as pastor of Our Lady of Fatima parish in Sudbury.

"I feel blessed and honored to be the pastor of such a welcoming and faith-filled community," Father Erikson said.

A Watertown native, and son of St. Luke parish in Belmont where he served as an altar boy, Father Erikson has lived his ministry in a variety of ways.

He was ordained to the priesthood in 1985. His initial assignment was as parochial vicar in St. Mary Parish in Lynn. Father Erikson then became a reserve chaplain for the military, while at the same time chairing the Social Science Department and teaching at St. John's Seminary in Brighton.

In 1999, he became an active-duty Air Force Chaplain, a ministry that took him around the country and around the world. In 2001, he was appointed pastor of Queen of Peace Catholic Community at Scott Air Force Base in Illinois, as well as St. Michael the Archangel Catholic Community at Andersen Air Force Base in Guam. He also was deployed to Iraq in 2004. He is currently the Mobilization Assistant to the Air Force Deputy Chief of Chaplains and has been selected for promotion to the rank of brigadier general.

In 2006, Cardinal Seán O'Malley appointed Father Erikson to be Vicar General and Moderator of the Curia, a position he held for five years, making him one of the longest serving Vicars General in the history of the archdiocese.

"I've been in administrative positions both in Boston and in the military since 2001," Father Erikson said. "It feels wonderful to be a pastor again."

Father Erikson became the sixth pastor of Our Lady of Fatima parish on March 1.

He noted that his parishioners, as well as the wider community in Sudbury, have been "very gracious and welcoming of me."

"I'm both thrilled and happy to build on the heritage of the Catholic community in Sudbury," he said.