Obituary: Father James F. Curtin, former pastor in Walpole and Quincy
---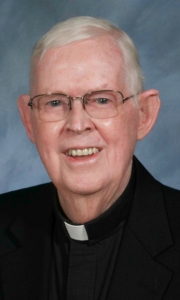 Father James F. Curtin Pilot file photo
Help us expand our reach! Please share this article
Father James F. Curtin, former pastor in Walpole and Quincy, died Feb. 18 at Massachusetts General Hospital in Boston after a sudden illness.

Father Curtin was born and raised in Watertown, the son of Peter and Sheila (Roberts) Curtin. He attended St. Patrick's Grammar School and High School, from which he graduated in 1944. He studied for the priesthood at St. John's Seminary and was ordained at the Cathedral of the Holy Cross on April 11, 1951 by then-Archbishop Richard Cushing. He offered his first Mass on April 15 at St. Patrick Church in Watertown. He began his first parish assignment later that month as parochial vicar at St. Joseph Parish in Woburn. There he served for almost 6 years before being assigned parochial vicar at Star of the Sea Parish in Marblehead. Later, he would serve as parochial vicar at Immaculate Conception in Malden from 1962 to 1968 and at St. Mary in Melrose from 1968 to 1972.

In June 1972 he began a year of service on Lend Lease to the Diocese of Agana, Guam. After returning in 1973 he was named associate pastor at Holy Name Church in West Roxbury.

In December 1975 he was named pastor of the Blessed Sacrament Church in Walpole. He remained at Blessed Sacrament for almost 9 years before being assigned to Our Lady of Good Counsel in Quincy where he was appointed as administrator in October 1984 and then pastor on Jan. 1, 1985. He remained at Our Lady of Good Counsel until 1999, when he was granted senior priest/retirement status by Cardinal Bernard Law.

In his retirement, he resided at St. James the Greater Church in Boston before moving to the Regina Cleri residence for retired priests in Boston in 2008.

His funeral Mass was held Feb. 24 at his home parish of St. Patrick Church in Watertown. The principal celebrant was Bishop Francis Irwin and homilist was Father William Lucey. The Mass was concelebrated by many of Father Curtin's brother priests including Msgrs. Robert Deeley, William Glynn, James Tierney, Andrew Connell and Fathers Denis Dever, Hugh O'Regan, Joseph Bagetta and William Pearsall. The rite of committal was it St. Patrick's Cemetery in Watertown immediately following the funeral.

Father Curtin is survived by two sisters, Eileen Heneghan and Mary Curtin, both of Waltham, as well as numerous nieces and nephews, and grandnieces and grandnephews.