From Cardinal Seán's blog
---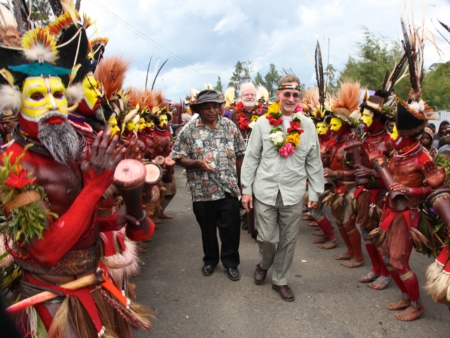 'During the drive, as we would come to the villages, the natives would come out of their houses to greet us and sing. Everywhere we went they would give us flowers and headbands.' Pilot photo/CardinalSeansBlog.org
Help us expand our reach! Please share this article
It was a great joy and privilege to be able to travel to Mendi in the southern highlands of Papua New Guinea to ordain one of our Friars, Father Don Lippert, to the episcopacy.

In fact, I think the first three priests that I ordained have become bishops -- Bishop Elliott Thomas, Bishop Adalberto Martinez and now Bishop Lippert. Bishop Don worked with me as a seminarian at the Centro Catolico in Washington D.C., during the time he was a deacon. In fact, at my episcopal ordination he was one of the deacons who held the book over my head. After I was ordained a Bishop, he was the first man I ordained to the priesthood.

Bishop Don worked for a long time with the immigrants at the Centro Catolico. He then generously went to Papua New Guinea when they needed a philosophy teacher at their seminary, because the philosophy teacher, Father William Fey, had been elected provincial. So, he went to fill that position for three years, but Father Fey was then made the Bishop of the Diocese of Kimbe, also in Papua New Guinea. Don stayed on and has become Bishop of Mendi, which was the original mission entrusted to the St. Augustine Fathers of the Capuchin Friars.

When our men arrived there was nothing, not even a church. But today there are about 150,000 Catholics. There are 55 capuchins there, half of them native-born.

Journey to Mendi

We arrived at the city of Mount Hagen by plane and travelled to Mendi by car, a five hour trip over dirt roads. During the drive, as we would come to the villages, the natives would come out of their houses to greet us and sing. Everywhere we went they would give us flowers and headbands.

In Papua New Guinea there are also native orders of religious women like the Franciscan sisters that were founded by the first Bishop with the help of the Ogdensburg Franciscans from Indiana who acted as mentors for the sisters.

... Friday (2/3), I spent most of the day studying pidgin because I had to celebrate the ordination in pidgin. There are about 600 languages on the island, so the development of a lingua franca called pidgin was very important for communications. The different tribes have different customs, dress and languages. One of the Friars commented that just a few years ago it would have been impossible to bring these different tribes together because there would have been mutual fear and hostility. Their entrance into the Church has brought about reconciliation and enabled them to live together in peace with each other, in the solidarity of their new family, the Church. I celebrated in pidgin when I was there after World Youth Day in Sydney to give a retreat. So, this is my second trip to Papua New Guinea and my second time celebrating in pidgin but now I can say I've celebrated ordinations in French, Spanish, Portuguese, English and now pidgin! Saturday was the Mass of ordination. The Mass took place outside the cathedral because there were thousands of people in attendance.