Father Paul Keyes granted senior priest status
---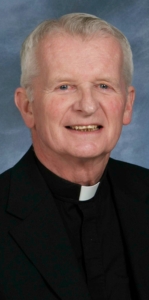 Father Paul T. Keyes Pilot file photo
Help us expand our reach! Please share this article
Cardinal Seán P. O'Malley has announced that he has granted senior priest/retirement status to Father Paul T. Keyes effective Jan. 15, 2012.

A Newton native where he was born Oct. 21, 1936 he attended local public schools and on graduation from Newton High School he, with his twin brother, entered the College of the Holy Cross at Worcester. He entered St. John's Seminary following his graduation from Holy Cross both as a proud son of the "Cross" and of his home parish, Corpus Christi, in Newton's Auburndale section.

Richard Cardinal Cushing ordained him to the priesthood at Holy Cross Cathedral on Feb. 2, 1963. His first assignment was as an assistant at St. Robert Bellarmine Parish in Andover until September 1970. During this time he was also on full-time duty at the Lawrence General Hospital's Rehabilitation Clinic.

In September 1970 he was named an associate at St. Monica Parish in nearby Methuen serving that large parish until September 1972 when he was assigned to undertake graduate studies at Duquesne University in Pittsburgh, Penn.

He returned to his seminary alma mater in September 1975 as a spiritual director. Over the next ten years he would be a valued counselor and advisor to successive years of students and for many priests and religious of the archdiocese and beyond. He was a widely sought after retreat master for priests and seminarians -- both locally and nationally.

In 1978 he released a book "Pastoral Presence and the Diocesan Priest" a practical tome incorporating academic work from his study at Duquesne and his initial years as spiritual director. It became a must read for both seminarians and priests.

In July 1985 he was named a member of the staff of the Office for Spiritual Development and became an even more familiar face around the archdiocese giving parish retreats and days of recollection. He also began two terms of four years each as a member of the Archdiocesan Clergy Personnel Board serving until February 1994.

He returned to parish ministry in June 1986 when he was named the second pastor of St. Richard of Chichester Parish in Danvers. He served the North Shore parish for seven years until he returned to familiar territory and larger duties at St. Michael Parish in North Andover.

For the next 12 years he served one of the largest parishes of the archdiocese, accomplishing among many other goals the building of a new and much needed parish church for the burgeoning parish family.

Since 2005 he has served as a member of the Team Ministry at the North Andover parish, first as its moderator and subsequently as a member of the three man team.

An avid and knowledgeable fan of the local sports teams on all levels, Father Keyes is familiar with the snow covered slopes of New Hampshire and not a few greens in the area. Although retired he'll still be sought for his sage advice and have time for his favorite pastimes.