Indy auxiliary pulls for Pats
---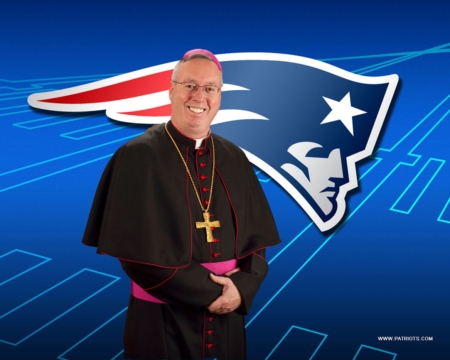 Indianapolis auxiliary Bishop Christopher Coyne demonstrates his loyalty to the Patriots in his Facebook profile picture. Courtesy photo
Help us expand our reach! Please share this article
INDIANAPOLIS -- When the NFL made tickets available to the public for Super Bowl media day Jan. 31, they inadvertently invited the attention of a Catholic bishop and all of his followers on social media site Twitter.

A Boston priest until being named auxiliary bishop of the Archdiocese of Indianapolis last year, Bishop Christopher J. Coyne attended the event and tweeted the whole experience.

"I have been a fan of the Patriots since the 1960s, and I really enjoy using social media," Bishop Coyne told The Pilot.

In his Twitter account of the event, the Boston-born bishop rankled the Manning-loving sensibilities of some Indianapolis fans with his open and unabashed support for the Patriots.

"@bishopcoyne "Heading down to Super Bowl media day."

"Going to give Tom Brady your official blessing? He's going to need it," The Criterion, the weekly newspaper of the Roman Catholic Archdiocese of Indianapolis, tweeted back at the native bishop.

In an interview with The Pilot, the bishop laid out an explanation for the idea of praying for your team to win.

"Things like whether one team wins a football game or another team loses a football game, I don't think is something that really comes to the attention of the Divine Will -- except of course when it comes to the Patriots," he joked.

The Colts and the Patriots have a history of rivalry, and the bishop openly states his stance on that rivalry on the Archdiocese of Indianapolis' website.

Bishop Coyne grew up with six siblings in Woburn, in a family who followed the team since they were called the Boston Patriots.

In one tweet he noted some of the wild behavior characteristic at the media event, "Rob Gronkowski is doing the river dance like Papelbon. He's fine. Good to go. All set. 100 percent. Really...."

He said he can forgive people for rooting against the Patriots, "because I'll be rooting against the Giants."

At the event the bishop knew that questions for Giants quarterback Eli Manning would be determined by the Colts-friendly environment.

"Took less than 5 minutes for Eli to get the first Peyton question. #Superindy," he tweeted.

He then tweeted "5th Peyton question to Eli ... #Superindy" and "6th..." in rapid succession.

"At the end of the day I always tell the Colts fans that I feel very close to the Indianapolis Colts because I also only have one ring," he said.