Deaf Catholics strengthen ties at conference
---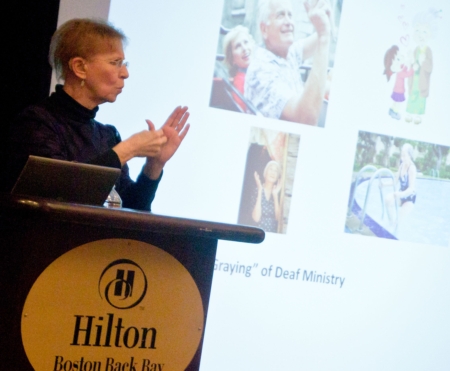 Maryann Barth, assistant principal of St. Rita School for the Deaf in Cinncinatti,Ohio, delivers her keynote address at the National Catholic Office for the Deaf's (NCOD) Pastoral Week 2012 Conference held in Boston Jan. 13 to Jan. 17. Pilot photo/ Christopher S. Pineo
Help us expand our reach! Please share this article
BOSTON -- The Boston Archdiocesan Deaf Apostolate hosted the National Catholic Office for the Deaf's (NCOD) Pastoral Week 2012 Conference at the Hilton in Back Bay from Jan. 13 to Jan. 17.

The conference brought together the North American deaf community for multiple workshops, speakers, and business meetings to establish an agenda and a way forward for deaf Catholics.

Leaders in deaf ministry came to the conference from all over the United States and parts of Canada, including most of the ordained priests in the U.S. deaf community.

Pastor at St. John's Deaf Center in Warren, Mich., Father Michael Depcik, produces the video blog "Father MD's Kitchen Table," and spoke with The Pilot at the event. He highlighted the need to use technology to reach the deaf community and for the deaf to reach out through the use of technology.

"I'm being like a 'digital missionary' now. That's what we're doing now. It's sort of like this: We have no choice; it's what we have to do. We have to use that new media to go out and do missionary work through the new media," Father Depcik said, through interpreter Father Jeremy St. Martin of Boston's Deaf Apostolate.

"We have to be missionaries, so this new venue means we have to move into it," he added.

Father Depcik said he started his blog with two goals for deaf people who may not have access to a priest who speaks American Sign Language.

"I set it up for people to be focused on the love of God, and to deepen their Catholic faith," he said.

The most recently ordained deaf U.S. priest Father Christopher Klusman, pastoral minister of Deaf/Hard of Hearing Ministry in the Archdiocese of Milwaukee, gave a presentation on the New Roman Missal for those using American Sign Language. He also spoke with The Pilot about his experience ministering to the deaf, and being at the conference.

"The journey has been a powerful, beautiful, and inspiring experience, just wonderful. Mostly seeing the deaf people from the area, for them to see a deaf priest, to see that it really is possible, they have access to God and his Word," Father Klusman said, through an interpreter.

Director of the Deaf Apostolate in Rockford, Ill. and vice president of NCOD Msgr. Glenn Nelson said the conference and future efforts by the organization should take a particular focus on communicating with bishops and providing them with resources to reach the deaf.

He said the work of deaf ministry requires understanding that people may not have experience communicating with deaf people, so NCOD acts as a liaison in a sense.

"What we try to do is say, 'Hey, we realize you may not have that but we're here to help you,'" Msgr. Nelson said.

He said the NCOD produces instructional videos on the Eucharist, reconciliation, and recently confirmation, which they make available for helping teach sacraments to deaf people.

Keynote speaker at the conference, Maryann Barth, assistant principal of St. Rita School for the Deaf in Cinncinatti, Ohio, spoke on the need for the deaf to advocate for deaf ministry in the Catholic Church through using new technology, and advocating for change in the larger Church and society.

Her talk, "Old Wines, New Wineskins" -- presented in American Sign Language with voice translation -- summarized the need for such advocacy in the continuing history of deaf ministry of the Catholic Church in North America.

"Deaf ministry has to have a different approach for the 21st century. That is my main point," said Barth, speaking with The Pilot after her address.

Barth said feeling disconnected from the Church can cause deaf people to simply leave the faith.

"Why do deaf Catholics leave the Church? We can remember it through three A's," which Barth listed as access, alienation and authority.

Limited access to communication technology for the deaf, alienation as a result of communication avenues breaking down for the deaf with the decline of traditional families, as well as the rejection deaf people sometimes feel from authority cause the deaf to leave the Church, she said.

Barth said a 1973 federal law ended what she called a "golden age'' for deaf ministry. The law encouraged deaf students to study in schools with hearing people.

"The culture itself was impacted because students were not together any longer, instead they were scattered," she said.

In 2009 the Vatican held an international conference and presented "Ephphatha! -- The Deaf Person in the Life of the Church," which established an international Church agenda to coordinate pastoral ministry for deaf people in every diocese. The Church said each diocese should have at least one priest competent in ministering to deaf people, giving them full access to the sacraments, liturgy, and catechesis.

Barth also put some onus for creating impetus toward an inclusive ministry in the Church on deaf people themselves.

"We need to take advantage of technology. We really have to be in contact with the bishops, we need to be in contact with them at that level. And we really have to make the Vatican presentation, that happened in 2009, work for us," Barth said.

Barth stressed the need for the deaf to advocate for themselves in their own Catholic communities.

"If there is no deaf ministry in their area, which often exists, they should be in contact with their bishops. Do not give up after one contact with a bishop. They need to work. Roll up their sleeves, do the work, and don't sit back and wait for someone else to set up deaf ministry in their area," Barth said.