Obituary: Father Nicholas Driscoll served in several archdiocesan parishes
---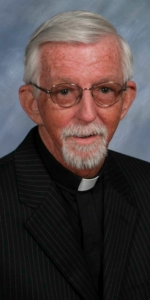 Father Nicholas J. Driscoll Pilot file photo
Help us expand our reach! Please share this article
South Regional Bishop John Dooher was the principal celebrant of the Funeral Mass of his classmate, Father Nicholas J. Driscoll at St. Elizabeth Church, Milton on Jan. 10. Father Driscoll died at his home in Carver on Jan. 5; he was just a few weeks shy of celebrating his 69th birthday, which would have been Jan. 21.

A Hub native he was the only child of the late Nicholas and Phyllis (Kussmaul) Kelley-Driscoll. The family moved from Jamaica Plain to West Roxbury and Nicholas was in the first class graduated from Catholic Memorial High School, West Roxbury.

After completing formation in the archdiocesan seminaries at Cardinal O'Connell, Jamaica Plain and St. John's, Brighton, he was ordained at the Cathedral of the Holy Cross on May 21, 1969 by Richard Cardinal Cushing. This would be the last class ordained by the aging and ailing archbishop.

His eight priestly assignments were punctuated by five periods of health leave. Those assignments were at St. Florence, Wakefield (1969-1973); St. Joseph, Holbrook (1973); St. Sebastian Country Day School, Newton (1974-1980); St. Julia, Weston (1980-1984); Sacred Heart, Medford (1984-1985); St. Mary of the Nativity, Scituate (1986); Sacred Heart, Medford (1986-1991); and St. Jerome, Weymouth (1992-1994). At St. Sebastian he was assigned to the faculty; while in the various parishes he was assigned either as an associate or parochial vicar.

He was granted permanent disability status in 1999 and lived in his own residence since that time.

In addition to Bishop Dooher concelebrants included Msgr. Robert Deeley, vicar general and moderator of the curia; Father Aidan Walsh, pastor of St. Elizabeth Parish, who also served as the homilist; Father James O'Leary, pastor, St. Camillus, Arlington; Father James Barry, pastor of St. Mary of the Assumption, Revere and of Our Lady of Grace, Chelsea; Father John Mulloy, St. Joseph, Malden; Father John Hannon, St. Joseph the Worker, Hanson; Msgr. William Glynn, senior priest, Duxbury.