From Cardinal Seán's blog
---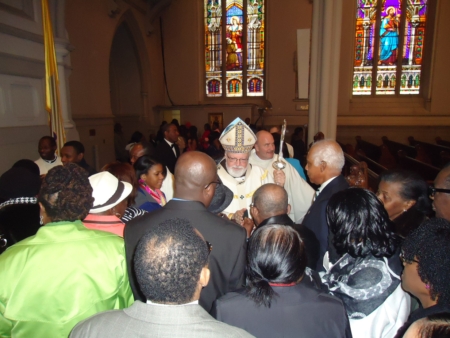 'On New Year's Day, I celebrated Mass at the cathedral for the Haitian community.' Pilot photo/CardinalSeansBlog.org
Help us expand our reach! Please share this article
As I shared with you last week, after the Christmas events here in the archdiocese, I spent some time in Florida visiting my family. On New Year's Eve I returned to Boston to celebrate Mass at St. Leonard's Church in the North End. Each year I have a custom of ending the old year and beginning the New Year in prayer with the Mass. In Boston, those Masses have been associated with the pro-life movement and the promotion of the Gospel of Life in our midst. This year, we had the holy hour directed by Father Matt Williams, with rosary and benediction, followed by confessions, and then followed by the Eucharist. The Boston fireworks were going off as I finished my homily; it was a dramatic way to finish a homily -- with fireworks! We had a large number of people. Afterwards, we served sandwiches and coffee in the parish hall. It was a beautiful way to begin the New Year, asking God's blessing upon us, and encouraging people to become involved in the Church's promotion of life. This is particularly important as we begin this year in which we will be facing the issue of physician-assisted suicide, that we ask people's prayers to help them once again to respond to the demands of the Gospel of Life.

Mass with Haitian community

On New Year's Day, I celebrated Mass at the cathedral for the Haitian community. When I arrived in Boston one of the Masses that I initiated was for Haitian Independence Day, which is also the feast of Mary Mother of God. It is always a magnificent celebration of faith. Haitians come from all over the diocese and fill the cathedral. This year the choir from St. Ann's in Somerville did a stunning job. The vice-consul from Haiti was also present and addressed the Haitian community at the end of Mass. As always, we closed with the national anthem of Haiti. A part of that celebration is always chanting the Te Deum in Latin, which is a customary European hymn of thanksgiving. It is very beautiful prayer of the Church, and is recited as part of the Liturgy of the Hours, but is seldom chanted in public here in the U.S. In fact, the first time I heard a public Te Deum was in Ireland, when President Kennedy was in the country and they were celebrating the arrival of the president and the coronation of Pope Paul VI. In Haiti, of course, they have the French influence, but I find in the United States many people do not know what the Te Deum is. I was very pleased, since this is one of the few times we get to hear the Te Deum chanted in our cathedral.

Blessing of the Daughters of Mary of Nazareth chapel

Monday (1/2), I went to Newton to the convent of the new community, the Daughters of Mary of Nazareth. There, I blessed the altar and the Chapel. We are amazed at how the house has really been transformed and come out to be a beautiful venue to begin this new order.

Mass with Regina Cleri priests and staff

Each year around Christmas we have a special Mass for the priests and the residents of Regina Cleri and other visitors who join us. I'm always impressed by the Christmas decorations prepared by the Sister Disciples of the Divine Master. They always decorate the Chapel and the residence in such a beautiful way. I'm always impressed by their wonderful work. I always look forward to this opportunity to be with our retired priests.