Obituary: Father Thomas Fleming one time pastor in South Boston, Dedham and Gloucester
---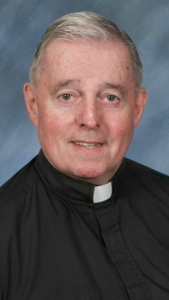 Father Thomas J. Fleming Pilot file photo
Help us expand our reach! Please share this article
Central Regional Bishop Robert Hennessey was the principal celebrant of the Funeral Mass of Father Thomas J. Fleming at St. Mary of the Assumption Church, Brookline on Dec. 29. Father Fleming, a native son of the Brookline parish, died at Regina Cleri Residence on Dec. 23. He had celebrated his 80th birthday this past Oct. 10.

He was one of three children of the late Thomas and Winifred (Hughes) Fleming. His sister, Mildred and bother Bernard, one time Brookline Chief of Police, both predeceased him. After attending both the parish elementary and high schools, he crossed the town to attended Boston College in nearby Chestnut Hill. He was graduated with the BS in Business Administration in the class of 1953 at The Heights.

He entered St. John Seminary and Bishop Jeremiah Minihan ordained him to the priesthood at Holy Name Church, West Roxbury on Feb. 2, 1959. The class was too large for the Cathedral to accommodate family and friends, so about one-third were ordained at West Roxbury.

Except for a seven year stint as Chaplain for the United States Army (1971-1978) Father Fleming's entire active ministry was in parishes across the archdiocese. He was an assistant at St. Bridget, Abington following ordination to 1965; and Assistant at St. Patrick, Roxbury 1965-1971.

He served as Army chaplain in Vietnam, Korea and Germany during the turbulent years of the Vietnam conflict. He returned to the archdiocese and was named associate at St. Bartholomew, Needham (1978-1981). Cardinal Medeiros named him pastor of South Boston's St. Brigid parish in 1981 where he served until 1988 and where he is still warmly remembered. He went across the city to St. Ann in the Hub's Readville section serving as a parochial vicar between December 1988 and June 1989. Cardinal Law named him pastor in the neighboring parish, St. Mary, Dedham in June 1989. In August of that year he was named parochial vicar at St. John the Evangelist, Swampscott, and in 1991 he was named pastor of St. Peter Parish, Gloucester.

He was granted senior priest/retirement status on Jan. 14, 2002 and lived in residence at Sacred Heart, Lynn for the next three years prior to his move to Regina Cleri in 2005. He commuted regularly to Lynn and assisted at the parish on weekends even following the move to Regina Cleri.

Father James Canniff, senior priest in residence at Immaculate Conception, Malden and long time friend of Father Fleming served as the homilist of the Mass. Father Caniff spoke of Father Fleming's priestly life and the happiness he had in serving in the various parishes and in the Army. He pointed out that in the last several months while Father Fleming continued a heroic battle with cancer, he received outstanding care and support at Regina Cleri, both from professional medical staff and the brother priests resident there.

In addition to Father Canniff, concelebrants with Bishop Hennessey included Bishops Francis Irwin, John Dooher and John Boles; Msgr. Robert Deeley, vicar general of the archdiocese; Father Brian Clary, pastor and area vicar; Msgr. James Tierney and Father Gerard Brennan, both of Regina Cleri; Fathers Robert Casey and Paul Rouse, both from St. Brigid, South Boston; and some 40 other priests.

The former chief of Gloucester's police department and his wife were among the mourners.

Following the Funeral Mass, Father Fleming was buried in Holyhood Cemetery, Brookline.