---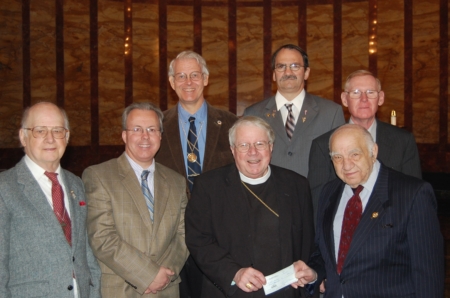 St. Florence Holy Name Society of Wakefield presents a check for $1300 to Bishop Arthur Kennedy for the St. John's Seminary Msgr. James Cotter Scholarship Fund. Courtesy photo
Help us expand our reach! Please share this article
Father Butler to receive Knight's Lantern Award

Father Timothy Butler, a lieutenant colonel in the United States Air Force, will receive the Lantern Award April 18 at the 111th Annual Patriots Day Dinner at the Sheraton Framingham Hotel.

The award is the highest public honor of the Knights of Columbus for the Jurisdiction of Massachusetts. This year will mark the 55th annual bestowing of this honor.

Father Butler is currently on active duty as a chaplain in the Air Force. He has been deployed six times, including to Iraq and Afghanistan.

Sister Olga Yaqob leaving BU chaplaincy

Effective June 30, Sister Olga Yaqob is resigning as Catholic campus minister at Boston University to focus more heavily on founding a religious order for women in the Archdiocese of Boston.

Sister Olga of the Eucharist has served as a full-time campus minister at Boston University for the last five years, and during the last year, she was a co-director of campus ministry at BU.

In recent years, Sister Olga has been discerning the founding of a religious community.

Father John R. McLaughlin has been appointed to succeed Sister Olga as campus minister at Boston University, effective July 1.

Father McLaughlin is currently stationed at the Archdiocese for the Military Services, where he has served as vocations director since 2008. He was ordained as a priest of Boston in 1995 and has served as parochial vicar at St. Clement Parish in Somerville, St. Mary's in Foxboro and St. Monica's in Methuen.

Notre Dame student recognized as distinguished scholar

Sarah Burch, a senior at Notre Dame Academy in Tyngsboro, has been selected as the recipient of the school's Distinguished Scholar Award.

The Tewksbury resident is a member of Blue and Gold, a group of students who represent the school at various events, the treasurer of the National Honor Society, a member of the Spanish National Honor Society, the Glee Club and Liturgical Music. She has also served on the academy's retreat planning committee.

Out of school, she has been a member of the Billerica Swim Team, and volunteers at Saints Medical Center in Lowell and the St. William's Religious Education summer program. She works as a lifeguard at the Billerica Boys and Girls Club.

The Academy of Notre Dame is a Catholic school comprised of a college-preparatory high school and a co-ed elementary and middle school. The school is sponsored by the Sisters of Notre Dame de Namur.

Wakefield Holy Name Society supports seminary scholarship fund

The St. Florence Holy Name Society, based at St. Florence Parish in Wakefield, presented a $1,300 donation to the St. John's Seminary Msgr. James Cotter Scholarship Fund, bringing their total donated amount to $24,800.

The St. Florence Holy Name Society began the scholarship fund over 25 years ago as a way to honor their former pastor, Msgr. Cotter. Each year, the society has hosted a dinner-dance to raise money for the scholarship fund.

The Msgr. Cotter fund is a general scholarship to benefit seminarians.

Catholic Schools Office official accepts Del. school presidency

Brendan Kennealey, a regional superintendent in the archdiocese's Catholic Schools Office, has accepted a postion as president of Salesianum School in Wilmington, Del. Kennealey begins his term on July 1.

He will be the first layman and second graduate to serve as president of the school.

Salesianum School was founded in 1903 and is sponsored by the Wilmington/Philadelphia Province of the Oblates of St. Francis deSales. The school currently serves over 1,000 students from Delware, Pennsylvania, New Jersey and Maryland, and has been recognized as one of the top 50 Catholic high schools by the Catholic High School Honor Roll for 2010-11 for its academics, Catholic identity and civic education.