From Cardinal Seán's blog
---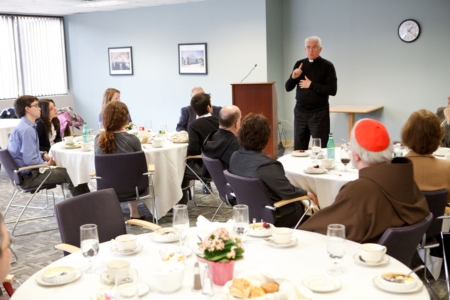 'On Saturday we hosted a visit by Archbishop Dionisio Garcia Ibanez of Santiago de Cuba at our Pastoral Center. ... After lunch, the archbishop talked a little bit about the history of Our Lady of Charity and the plans for the anniversary celebration.' Pilotphoto/CardinalSeansBlog.org
Help us expand our reach! Please share this article
Last Thursday (2/18), I attended a gathering of the Parents Alliance for Catholic Education, known as PACE, which engages in advocacy and public policy work on behalf of Catholic school students throughout the state. They work for social justice and school choice, as well as assist our Catholic schools in securing available state resources. They have been very instrumental in accessing many different funds and services for our Catholic schools. If you are the parent of a Catholic school student, I encourage you to find out more about, and become involved in, PACE.

We were planning different strategies for the upcoming year. Among those gathering with us were Bishop McManus of Worcester and Bishop McDonnell of Springfield; the superintendents of schools from the four dioceses of Massachusetts; Frederick Kalisz, who is the executive director of PACE; and Steve Perla, who is president of the board.

Visit from the Bishop of Santiago de Cuba

On Saturday (2/19) we hosted a visit by Archbishop Dionisio Garcia Ibanez of Santiago de Cuba at our Pastoral Center. The archbishop is in the United States meeting members of the Cuban community in preparation for the 400th anniversary celebration of the finding of the image Nuestra Senora de la Caridad del Cobre (Our Lady of Charity), the patroness of Cuba. He was also accompanied by Bishop Octavio Cisneros, a good friend of mine who is an auxiliary bishop of Brooklyn, and Mario Paredes, who worked with me in Hispanic ministry back in the '70s.

He was with us for a lunch, which a number of the members of the local Cuban community attended. Among them was Consuelo Isaacson, the president of our local Friends of Caritas Cubana group, which works to provide humanitarian and social service relief to people in Cuba. Also, Dr. Ralph de la Torre, the president of our Caritas Christi hospital network, was in attendance.

After lunch, the archbishop talked a little bit about the history of Our Lady of Charity and the plans for the anniversary celebration. He also took questions from the guests about a number of topics such as the situation of the Church in Cuba, present developments in the country and the release of prisoners through the mediation of the Church.

Mass for deacon's convocation

Also that day, we joined our deacons and their wives who were holding their day-long convocation. Archbishop Garcia Ibanez and Bishop Cisneros joined me for the Mass.

We were accompanied by Deacons Dan Burns and Pat Guerrini, who work on our permanent diaconate program, as well as Father Tom Foley, our Secretary for Parish Life and Leadership. Father Foley's office helps oversee that program.

During the Mass I led the deacons in renewing the promises they made at their ordination. After the Mass I had a chance to greet the deacons and their wives. Throughout the day they attended talks and workshops designed to help them in their ministry.