New pastors named for parishes in Melrose and West Roxbury
---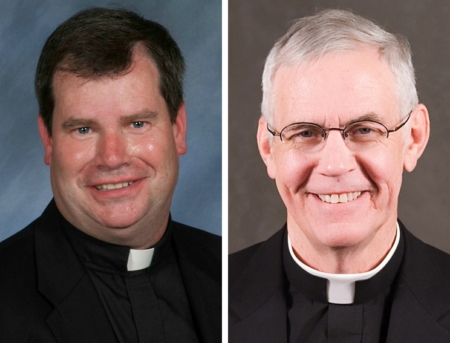 Father Stephen M. Boyle and Father William Dunn Pilot file photo
Help us expand our reach! Please share this article
Father Stephen Boyle

Cardinal Seán P. O'Malley OFM Cap. has announced the appointment of Father Stephen M. Boyle, up until now the Co-Director of Campus Ministry at Boston's Emmanuel College, as the pastor of Incarnation of Our Lord and Savior Jesus Christ Parish in Melrose. The appointment was effective on Oct. 1 of this year.

A South Boston native and son of Gate of Heaven Parish where he attended the parish school while the present rector of Holy Cross Cathedral, Father Kevin J. O'Leary was on the school's faculty. Of his former student he said "He was a great student. A couple of times he got a bit out of line; all I had to do was threaten a call home and he snapped into line!"

After completing his seminary studies he was ordained the Holy Cross Cathedral on May 20, 1995 by Bernard Cardinal Law, who named him parochial vicar at St. Francis Xavier Parish in Weymouth. While he was there his pastor, the then Father John B. McCormack was named an auxiliary of the archdiocese and South Regional Bishop. Father Boyle remains in contact with the present bishop of Manchester, N.H. whom he considers a friend and mentor.

Retracing Bishop McCormack's step a bit, in 2000 Father Boyle was named parochial vicar at Malden's Immaculate Conception parish. Bishop McCormack had one time been pastor of the parish. At Malden he served with two well-known and respected archdiocesan pastors Father Frank Silva, now in Newton and Father Richard Mehm the present pastor. Father Mehm echoed Father O'Leary's comments saying that his one-time parochial vicar was "a hard worker and would do well at Melrose. He likes being in this area."

For the past several years Father Boyle has been serving in Campus Ministry at Emmanuel College; during this time he has been very effective with the students and faculty and helped the change from a single sex all women's college to a co-educational one. During this time he has been in residence with his former pastor, Father Frank Silva, at Corpus Christi-St. Bernard Rectory in Newton.

At Melrose he succeeds the late Father James Field whose final journey to God was well documented in both secular and religious media locally. Father Field left a solid foundation upon which Father Boyle can build. The new regional bishop of the North Region, Bishop Peter Uglietto installed Father Boyle on Dec. 4 at a well-attended parish Mass. Friends and collaborators priests, religious and lay gathered with him to support him in his new office.

Father William Dunn

A native of Lead, South Dakota where he grew up he was one of the seven children of the late Robert and Isabel (Sutton) Dunn. There were two other boys who had four sisters. After attending St. Patrick parish grammar school he was graduated from Lead High School in 1962. From there he went to Omaha's Jesuit University, Creighton.

Before entering Blessed John XXIII Seminary he completed medical school and was for a number of years both a physician and a medical educator.

During his deacon year he was assigned at Braintree's St. Francis of Assisi Parish and his deacon supervisor was the parish's pastor, Father Kevin Sepe who also serves as a vicar in the South Region. The Braintree parish has been the "training ground" for several priests of the archdiocese either as transitional deacons prior to their priestly ordination; or for newly ordained priests before they have been named pastors.

Cardinal O'Malley ordained Father Dunn to the priesthood at the Cathedral of the Holy Cross on May 27, 2006 and gave him his first priestly assignment, naming him as parochial vicar at St. Mary Parish in Chelmsford.

During the past four years he has served in the very busy parish, "suburban Lowell" especially as far as the Catholics are concerned many of whom trace their most recent parish prior to Chelmsford to one or another of the Lowell Catholic parishes. Minus the parish school at Braintree, the two parishes have much in common with many parish activities and opportunities for a new priest to get a sense of parish life. Father Dunn jumped into that vibrant parish life.

At West Roxbury he will find an equally active parish which will call upon his native gifts and those pastoral talents which he has been able to develop at Braintree and more recently at Chelmsford.

Cardinal O'Malley made Father Dunn's appointment as pastor of St. John Chrysostom in West Roxbury effective on Dec. 12, 2010.