Youth and young adult prayer gatherings return for Advent
---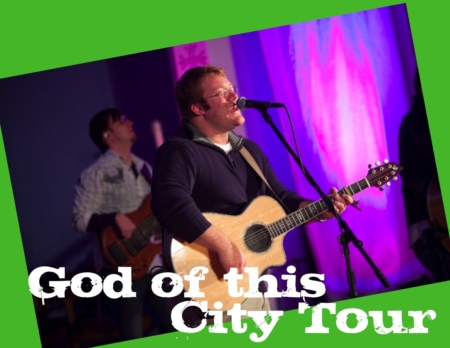 Graphic courtesy Office of New Evangelization
Help us expand our reach! Please share this article
BRAINTREE -- Once again, young people from across the Archdiocese of Boston will have the chance to praise and worship Jesus on five consecutive days during Advent at locations spread out across the archdiocese.

The second annual "God of This City Tour" occurs during the first week of Advent, kicking off on Nov. 29 and continuing for five straight days, culminating Dec. 3 at the Cathedral of the Holy Cross with Cardinal Seán P. O'Malley as the featured speaker.

Each night, the tour will be held in one parish from each region of the archdiocese and include a witness talk by a featured speaker, praise and worship music provided by Jon Niven and his band, eucharistic adoration and the opportunity to receive the Sacrament of Reconciliation.

The tour is co-sponsored by the archdiocese's Office for the New Evangelization of Youth and Young Adults and LIFT Ministries.

"My hope is that all kinds of young people would be drawn to come to these nights of prayer and worship to experience Jesus' love for them through adoration of the Eucharist, the preached word of God, the Sacrament of Reconciliation and through praise and worship," said Father Matt Williams, director of the Office for the New Evangelization of Youth and Young Adults and LIFT spiritual director.

Father Williams opens the tour on Nov. 29 at St. Mary Parish in Lynn. The tour continues the following night at Holy Family Parish in Duxbury with Sister Olga Yaqob. On Dec. 1, the tour moves to St. Michael Parish in North Andover with Father Marc Bishop as the featured speaker. The tour comes to St. Mary Parish in Franklin on Dec. 2 with Brett St. Gelais as the speaker.

Cardinal O'Malley concludes the tour at the cathedral Dec. 3.

Father Williams said the tour's format of music, preaching and prayer is very effective with today's youth and young adults.

"We found this format really speaks to the hearts of all generations, and draws them in to pray in a new way and experience God's love for them in a new and powerful way."

Complete schedule and location information is available at www.GodofThisCityTour.com.