On the air: 24/7 Catholic radio comes to Boston
---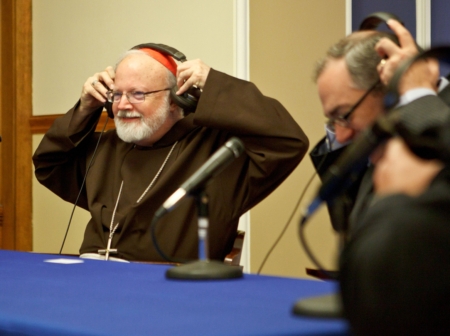 Cardinal Seán P. O'Malley puts on headphones to participate in an interview following the Mass to officially launch WQOM 1060 AM, Boston's first radio station with full-time Catholic programming, Nov. 1. Pilot photo/ Gregory L. Tracy
Help us expand our reach! Please share this article
SOUTH END -- With a Mass offered by Cardinal Seán P. O'Malley to celebrate the Feast of All Saints, the Archdiocese of Boston welcomed a full-time Catholic radio station to its area -- the first of its kind in the archdiocese's history.

On Nov. 1, WQOM 1060 AM began broadcasting in the Boston area at 8:00 a.m., carrying the Mass with Cardinal O'Malley, followed by an interview that featured Archdiocese of Boston Secretary for Catholic Media Scot Landry, EWTN President and CEO Michael Warsaw and Jim Wright, the president and general manager of Holy Family Communications, WQOM's parent company.

All events were held in the lower church of the Cathedral of the Holy Cross.

"For us, it's a special joy, something we've desired to have for a long time -- Catholic radio in the area," Cardinal O'Malley said in his opening comments on the air. "It's so fitting it begins on the Feast of All Saints because we can turn to our brothers and sisters in heaven and ask for their help in this effort."

WQOM, for Queen of Martyrs, is the first 24/7 Catholic radio station in the archdiocese's history. It will be based in Natick and offer nationally syndicated Catholic programming such as EWTN's "Life on the Rock" and "The World Over," as well as shows by Mother Angelica, Father Benedict Groeschel and archived material from Servant of God Archbishop Fulton J. Sheen.

In the future, the station might also feature more local programming, including interviews with Cardinal O'Malley, local Masses, the recitation of the Rosary, and CatholicTV programs.

Landry said he is excited about the prospect of 24/7 Catholic radio in Boston.

"It's been a gap in what we're trying to do as a Church from a media standpoint," Landry said.

"My hope is that we'll see great growth in the RCIA programs," Landry also said. "People will be flipping through the dial and they hear something that will stick on 1060 AM."

The station will broadcast at 50,000 watts, the same signal strength as major secular outlets like WBZ (1030), WRKO (680), and WEEI (850).

WQOM is expected to reach about 5.5 million people in eastern Massachusetts and neighboring states.

Arbitron ratings rank Boston as the nation's tenth largest radio market, while the archdiocese is the fourth largest Catholic archdiocese in the U.S.

Cardinal O'Malley reminded listeners of the significance of the saints in the lives of Catholics during his broadcasted homily.

"Our purpose in life is to be a saint," Cardinal O'Malley said. "Ordinary people in every walk of life are called to be saints -- to be happy with God in heaven."

He said the examples of the saints throughout Church history teach contemporary Catholics about the role of discipleship.

"We learn how to be disciples the way we learn a language -- by being part of a community that speaks that language," Cardinal O'Malley said.

"The saints are part of our family," he said. "By living with them we can learn how to be disciples -- friends of Jesus."

Cardinal O'Malley connected prayer to the lives of the saints for listeners that morning, saying that prayer pervaded the lives of all the saints and that through prayer today's Catholics can learn of God's love.

"Prayer is what transforms us by opening our hearts to God's grace," Cardinal O'Malley said. "Living with the disciples and knowing the saints is our call to holiness."

Holy Family Communications announced its acquisition of the former studios of WBIX 1060 AM, a business news station in July.

The company operates two other New York-based stations as part of the Station of the Cross Catholic Radio Network -- WHIC 1460AM in Rochester and WLOF 101.7FM in Buffalo.