R.I. bishop urges Christians to be politically active
---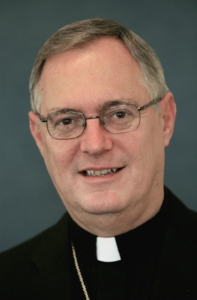 Bishop of Providence Thomas Tobin CNS photo/Bob Roller
Help us expand our reach! Please share this article
NEWTON -- "You were not baptized to be irrelevant," Rhode Island Bishop Thomas Tobin told Commonwealth residents gathered for Massachusetts Family Institute's (MFI) annual banquet, held at the Marriott Hotel in Newton Oct. 14.

The bishop of the Diocese of Providence said that society is so set against the Christian worldview that it often dismisses what Christians have to say before they have a chance to speak.

"You've probably noticed that on occasion our message is not well received," he joked, as many in the crowd gave a knowing chuckle.

He told the story of being invited to a surprise birthday party, and when he arrived, he was greeted by a young girl, about seven years old, who said, "I don't know you. I don't like you. And who invited you anyway?" That is the response that people of faith often receive when they try to speak about their values, he said.

There is no doubt that we are living in difficult times when "the basic premises of civilization are being questioned" and "fundamental moral values are so easily discarded." The world is troubled and confused, and as disciples of Jesus, Christians must witness to Christ.

The bishop added that he does not believe he was ordained to be irrelevant either.

Last year, Bishop Tobin had a public discourse with Rep. Patrick Kennedy (D-R.I.) after Kennedy spoke out against the American bishops, saying that their opposition to a health care bill that funds abortion only served to "fan the flames of dissent and discord."

Michael Gilleran, chairman of Catholic Citizenship's board, said in his introduction of Bishop Tobin, that His Excellency was invited to speak at the MFI banquet because of his loving defense of life and his public challenge of a politician who wears "the mask of the faithful" but does not adhere to the teachings of the Church.

"Tonight we have with us a Church leader who has challenged, and with Christian love, pulled aside the mask of a politician who claimed to still be faithful," he said.

At the banquet, Bishop Tobin outlined some problems that people encounter when they live their faith. So often, those who disagree use the principle of the "separation of church and state," meant to protect the church from the state. It was never intended to cleanse society of any religious influence, he said.

"Never be intimidated by this bogus claim," he said. "You have every right and every duty to be part of the public discourse."

In fact, many Christians have been "too beige" in living out their faith. Tobin said he is partial to beige but not in the spiritual life. Christians must be vibrant, bold, stand out and make a difference. Otherwise they will not be recognized for who they are and who they follow.

He encouraged all to "challenge publicly the sin and evil that is embedded in our culture."

Kris Mineau, president of MFI, spoke to the banquet attendees about the political successes and failures of the previous year.

He said that a transgender rights bill, which the group opposed, had stalled in committee. Those opposing the bill were concerned that the measure could prohibit gender-specific sport teams at schools such and eliminated gender-based privacy rules in public places such as restrooms, changing areas or locker rooms.

However, he said the MFI, in cooperation with Massachusetts Citizens for Life, had been unsuccessful in getting "Laura's Law" passed. "Laura's Law,'' previously called "A Woman's Right to Know Law," would require abortion providers to give women information on abortion's risks and complications.

He talked about the unexpected victory of Sen. Scott Brown over Attorney General Martha Coakley for the seat formerly held by Sen. Ted Kennedy. What was meant to be a "Coakley blow out" ended up as a four percent victory for Brown.

Mineau urged pro-family voters to be vigilant as the Nov. 2 election quickly approaches. Pro-family candidates are running in more than half of the 200 state legislature seats that are up for grabs. If even half of those pro-family candidates were successful, it would give Massachusetts another chance to pass a marriage amendment, he said.

"We will be facing the most decisive midterm elections of our lifetime," he said. "We have a once-in-a-lifetime chance to end the liberal supermajority in Washington and Massachusetts who stand in direct opposition to our values."

"We love our country. It's the only country we have, and we want it back," he added.