Obituary: Father William Kenneally retired pastor of Dorchester, Foxborough and Plymouth parishes
---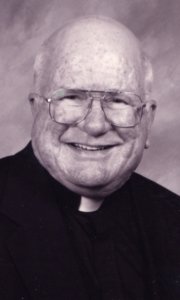 Father William F. Kenneally Pilot file photo
Help us expand our reach! Please share this article
Father William F. Kenneally died peacefully at Regina Cleri on Oct. 12. A native of Boston's Jamaica Plain section he was born on July 17, 1925 the youngest of the four children of the late John and Elizabeth (Galvin) Kenneally. His brother and two sisters predeceased him.

He attended Jamaica Plain High School and was graduated in 1942. He enrolled at Boston College but after 18 months he decided to sign up and in 1943 found himself in US Army's 86th Infantry Division serving in both World War II theaters of operations: Europe and the Pacific. He returned to Boston College following his release from the Army and entered St. John's Seminary in 1947. Archbishop Richard Cushing ordained him to the priesthood at Holy Cross Cathedral on Feb. 5, 1953.

With the exception of a three year stint as Chaplain at Fort Devens (1964-1967), Father Kenneally spent his entire priestly service in parishes either in the See city or to its south. He was assistant or associate in five parishes: St. Jerome, Weymouth (1953-1954); St. Mary, Dedham (1954-1962); St. Andrew the Apostle, Forest Hills (1962-1964); Holy Name, West Roxbury (1967-1971) and St. Ann, Quincy (1971-1973).

Humberto Cardinal Medeiros named him pastor of St. Matthew Parish in Dorchester on Oct. 9, 1973 and three years later named him pastor of St. Mary Parish in Foxborough. Cardinal Bernard Law named him pastor of St. Bonaventure Parish in Plymouth's Manomet section where he served from Nov. 11, 1986 until his retirement on April 15, 1997. In his "retirement" he initially lived as senior priest at busy St. Agatha Parish in Milton, and several years ago he moved to Regina Cleri Residence.

Cardinal Seán O'Malley was the principal celebrant of Father Kenneally's Funeral Mass celebrated at St. Agatha Church, Milton on Oct. 9. The parish's present pastor, Father Peter Casey was the homilist and was among the concelebrants who included Father James McCune, Father John Mansfield, and Father Eugene Curtin, all of Regina Cleri; and Father Kevin Sepe, pastor of St. Francis of Assisi, Braintree, vicar forane of the area.

Father Kenneally leaves several nieces and nephews. Following the Funeral Mass he was buried in St. Mary Cemetery, Randolph.