Conference explores practical approaches to social justice
---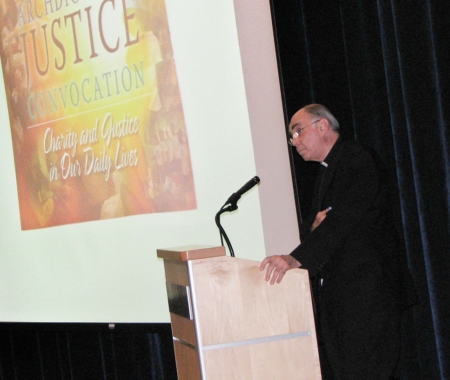 Father J. Bryan Hehir, the archdiocese's cabinet secretary for Health and Social Services, delivers the first of two keynote addresses at the second annual Archdiocesan Justice Convocation held at Boston College High School, Oct. 9. Photo/Christine M. Williams
Help us expand our reach! Please share this article
DORCHESTER -- "For the Church, instructed by the Gospel, charity is everything, because as St. John teaches and as I recalled in my first encyclical letter, 'Deus Caritas Est': 'Everything has its origin in God's love, everything is shaped by it, everything is directed towards it.' Love is God's greatest gift to humanity, it is his promise and our hope," Pope Benedict XVI wrote in his most recent encyclical "Caritas in Veritate."

Those words speak to the very heart of the second annual Archdiocesan Justice Convocation, Cardinal Seán P. O'Malley told the more than 100 participants in a video message. The convocation, entitled "Charity and Justice in Our Daily Lives," was held at Boston College High School on Oct. 9. The event was meant to educate the faithful on the Church's social teachings as well as highlight some areas of great need.

The cardinal then thanked all those who work for social justice by carrying on God's mission in the world today.

"The collaboration among our parishes and archdiocesan agencies leading up to this event is a great encouragement and a sign of how much can be accomplished when we work together," he said.

His remarks were followed by the day's two keynote speakers, who said the Church's moral voice is meant to shape the world.

Father J. Bryan Hehir, the archdiocese's cabinet secretary for Health and Social Services, said the Church in Boston must be a "voice for justice" and "a valuable contributor to the very life of our society as a whole."

"The one goal is to create in this archdiocese a Church that is known for the depth of its faith and for the extension of its faith, for its commitment to its beliefs and the way it organizes multiple services to sustain and support human beings in our midst," he said.

Parishes must cooperate in order for the entire archdiocese to keep its commitment to life. A problem in one area of the archdiocese, like the recent shootings in Boston, cannot be only that region's responsibility, he said.

He spoke about the current economic crisis, saying that human dignity and even human life are threatened by poverty. With the nation facing "the most serious economic challenge in 50 years," there are more people facing poverty. Many of them are people who have always been able to find work before.

The second keynote, Father Thomas Massaro, SJ, professor of moral theology at Boston College, said that while the Church is called to provide for those in need, she must also advocate change in the economic and political systems in order to assist others before they reach the point that they are in serious need. In addition to feeding the hungry, the Church must support programs that help the unemployed enter the workforce.

"We have to get to more regular, methodical efforts that come out of a sense of duty and obligation," he said. "Sometimes charity is faulted for furnishing Band-Aids to the deep problems of society when what we need in the justice orientation is to add to our charitable efforts some kind of a corrective surgery, getting it right at the deepest levels."

The rest of the convocation consisted of two prayer services, led by Boston College High School's choir, and two breakout sessions at which participants could choose from nine workshops on topics like abortion, immigration and human trafficking.

In the workshop on housing and homelessness, Lisa Alberghini, president of the Planning Office for Human Affairs, talked about the archdiocese's work in building affordable housing through her office, founded by Cardinal Richard Cushing in 1969. The office has built more than 2,500 units.

"Most people don't know that the Church builds housing," she said. "Housing is a human right, and we have a responsibility to deliver that to people."

In eastern Massachusetts, a laborer must make $26 an hour in order to spend no more than 30 percent of his income on the rent of an average two-bedroom apartment. Minimum wage is currently $8 per hour.

Kevin Kelley, president of the Labor Guild, spoke about advocating for laborers in a workshop on justice in the workplace. As the head of a union of construction workers and a handyman himself, Kelley said many contract workers simply try to earn enough to get by. They work without healthcare and retirement benefits, and they underbid each other in an effort to land any job. Employers can be so concerned about how quickly and cheaply the job is done that they fail to consider that the worker needs to earn a livelihood to support his family.

A group of workers can protect the rights of its individual members by providing them with a just wage, health care, retirement plans, job training and safety standards that could literally save their lives.

Father David Couturier, director of the archdiocesan Office of Pastoral Planning, said some Catholics incorrectly believe that social justice is a "luxury item that parishes cannot afford."

"To me, social justice is what the Church is about," he said during a workshop on parish social justice committees. "Our budgets are our theological perspective."

Reaching out to those in need is part of the mission of the Church that must be part of day-to-day life in every parish. Each parish must have a presence and provide a witness in its community, he said.

"If your church went out of existence, would anybody care?" he asked, saying that if the answer were "no," the parish needs to do more to reach out to its neighbors.

When the first Catholics came to the United States, they brought a vision, Father Couturier said. They were poor people who managed to build cathedrals, schools and hospitals. They defended the faith in a foreign land and moved Catholics up and out of a disadvantaged position very quickly.

"That was then. Who are we? Where is our courage? Where is our vision? What have we been spending our time doing in the last 10-15 years as a Catholic Church in the eastern section of Massachusetts? We've been fighting about buildings. We've been fighting turf battles. Maybe it's time to turn a corner and ask a bigger question. What kind of Church does the world need us to be?" he said.

Father Couturier added that social justice is not "our justice." It is not partisan politics but the vision of God.

Audrey Pugliesi, an Arise coordinator at St. Mary Parish in Dedham, said she plans to bring what she has learned back to her parish.

She said the convocation showed her the overwhelming need that exists even within the archdiocese and taught her that even one person, with the help of the Lord, can make a substantial difference.

"I'm not God, and I don't have to be. All I have to be is his hands here and his voice here, and I know he's going to take care of the bigger picture," she said.