Altar servers recognized for service
---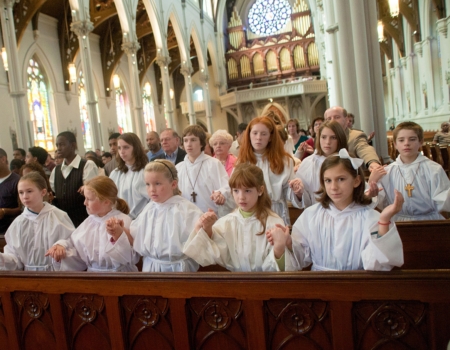 Altar servers from Our Lady of Grace Parish in Pepperell pray the Our Father during the archdiocese's Altar Server Appreciation Mass Oct. 2 at the Cathedral of the Holy Cross. The archdiocese recognized 450 altar servers for their contribution to the life of the Church. Pilot photo/Jim Lockwood
Help us expand our reach! Please share this article
SOUTH END -- Hundreds of altar servers were recognized by the Archdiocese of Boston for the contributions their service makes to the life of the Church at the annual Altar Server Appreciation Mass Oct. 2.

The Mass was held at the Cathedral of the Holy Cross with Auxiliary Bishop Robert Hennessey as the main celebrant and homilist. The Mass was attended by servers and their families.

"One thing that struck me was how joyful the servers were, how dedicated they are to the Eucharist and how much they do love the Church," said Father Dan Hennessey, director of the archdiocese's Vocations Office, which organized the day's events.

"People often say the young people are the future of the Church. They're not just the future. They're the present," he said.

During the Mass, the archdiocese recognized eight altar servers who have demonstrated outstanding service at the altar, as well as to their schools and communities, with special awards.

Pope John Paul II Awards were presented to four exemplary male altar servers and Blessed Mother Teresa of Calcutta Awards were presented to four female servers.

The archdiocese presents two junior and two senior awards in each category. Junior awards are given to servers in Grades 8 and below and senior awards are given to servers in Grades 8 and above.

This year's recipients of the Blessed Mother Teresa of Calcutta Awards were junior servers Julia Mancini of St. Catherine of Alexandria Parish in Westford and Jacquelyn Rose Pope of Most Precious Blood Parish in Dover.

Senior server recipients were Theresa Connors of St. John the Evangelist Parish in Wellesley and Carol D'Souza of Our Lady of Sorrows Parish in Sharon.

Recipients of the Pope John Paul II Awards were junior servers Ryan Crowley of St. Mary Parish in Lynn and Andrew Zamanian of Immaculate Conception Parish in Stoughton; as well as senior servers Joshua Dick of All Saints Parish in Haverhill and Kevin Martinez of Most Holy Redeemer Parish in East Boston.

Personalized certificates of appreciation signed by Cardinal Seán P. O'Malley were presented to 450 altar servers from around the archdiocese.

Following the Mass, altar servers and their families created their own ice cream sundaes with ice cream donated by HP Hood at the Cathedral High School gymnasium, next door to the cathedral.

The Mass was held on the Feast of the Guardian Angels, and Bishop Hennessey in his homily touched on the Church's teachings on angels and saints.

"Angels exist. You'll never be one," Bishop Hennessey said. "What God does call you to is to be a saint. The best way to do it now is in your family, in your parishes and in your school."

Bishop Hennessey went on to say that altar serving could lead young people to the priesthood or religious life, and encouraged servers to speak with their priest and family if they think they may have a calling.

Following the Mass, several award recipients commented on their service to the Church.

"It helps the young people realize God is important in your life and you shouldn't just ignore him," said Kevin Martinez, 15, who has been serving for six years at Holy Redeemer in East Boston.

Carol D'Souza, 14, who has been serving for seven years at Our Lady of Sorrows in Sharon, also spoke of the impact serving can have on young people.

"I think it's a good way to bring young people back to the Church," D'Souza said.

Joshua Dick, 15, who has been serving for six years at All Saints in Haverhill, offered an additional perspective, saying the presence of altar servers allows the priest to concentrate more on the Mass.

"They could do it without us but it's nice for us to be there to help them so they can be more straightforward with God. They can focus on being right there with Jesus," he said.