Catholic Lawyers Guild gathers for annual Red Mass
---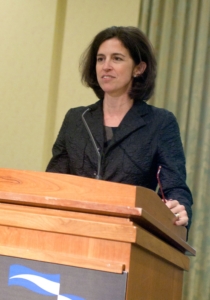 Professor of Law Helen Alvare was the keynote speaker at the annual Red Mass Luncheon. Pilot photo Jim Lockwood
Help us expand our reach! Please share this article
BOSTON -- The Catholic Lawyers Guild of the Archdiocese of Boston continued a medieval tradition Sept. 26 when it met for its annual Red Mass, opening the judicial year by invoking the guidance of the Holy Spirit upon all legal proceedings.

The Mass was attended by local lawyers, judges and others involved in the legal profession and was held at the Cathedral of the Holy Cross with Cardinal Seán P. O'Malley as the main celebrant and homilist.

Both speakers heard that day, Cardinal O'Malley in his homily and Helen Alvare, a professor of law at George Mason University and former USCCB spokesperson for pro-life activities, in her keynote speech, spoke of how faith and reason relate to each other in the practice of law.

One's faith should influence the decisions they make in the pursuit of justice, according to both speakers. In doing so, they encouraged lawyers to resist the tide of secularism which says religion should not have a place in the public sphere.

Their message resonated with attendees of the Mass and luncheon that followed at the Seaport Hotel.

Retired judge and current Catholic Lawyers Guild President Joseph Nolan, formerly a justice on the Supreme Judicial Court of Massachusetts, the state's highest court, discussed the importance of acting courageously and using reason.

"Both of them are sadly lacking in public life," said Nolan, who is currently a professor at Suffolk Law School. "Lacking both is not good. The first thing we have to have is courage."

Nolan cited the 2004 decision of the Supreme Judicial Court of Massachusetts (SJC) to allow same-sex marriage as a consequence when those in the law profession act without the use of reason.

"To think that preposterousness was able to get four votes from the SJC is pretty good proof we're not using reason," he said.

The Red Mass began in France in 1245 and arrived in England in the 14th century. Every Sept. 29, judges and lawyers attended a Mass to inaugurate and invoke the guidance of the Holy Spirit for the new judicial year. Offered as a Mass of the Holy Spirit, celebrants wore red vestments.

The tradition has continued in the United States, also to inaugurate the beginning of the legal year. The Supreme Court opens the first Monday of October.