From Cardinal Seán's blog
---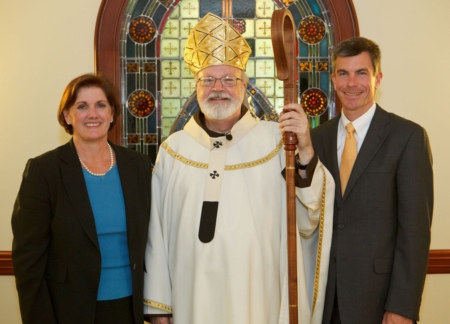 'On Wednesday (Sept. 15), I celebrated a Mass at the Pastoral Center for officials from Catholic Charities, including their Board of Directors, staff and regional advisory boards.' In the photo with Catholic Charities' president Debbie Rambo and board chair Jeff Kaneb. Pilot photo/Gregory L. Tracy
Help us expand our reach! Please share this article
On Wednesday (Sept. 15), I celebrated a Mass at the Pastoral Center for officials from Catholic Charities, including their Board of Directors, staff and regional advisory boards.

I was very happy for the invitation because it is an opportunity for us to stress the Catholic identity of the agency.

After the Mass was their annual meeting at which I was able to be present.

Meeting with the newly ordained

That evening, we hosted a gathering of newly-ordained priests at the Pastoral Center as part of our ongoing formation program.

I think it is so life-giving, not just for the young priests, but for their bishop, to be united. Father Medas from the Clergy Personnel Office was present at this meeting, as well as Father Tom Foley, our Secretary for Parish Life and Leadership, and Father Jim Flavin of our Office of Pastoral Care of Priests.

We had very good attendance. Practically all of the young priests were there. There were only one or two who were unable to join us for the Holy Hour and dinner, and the discussion on Christian spirituality.

It was encouraging that they not only attended but they stayed afterwards to visit and to be with each other. I think it only underscores the importance of what I have been asking our priests to do -- join a priest support group that can come together for prayer, fraternity and shared reflection.

League of Catholic Women

Friday, I had the Mass to celebrate the centennial of the League of Catholic Women.

The League of Catholic Women was founded by Cardinal O'Connell.

We celebrated their anniversary with a Mass and luncheon at the Pastoral Center.

It was very well attended. There was great enthusiasm on the part of the women from across the archdiocese who attended.

St. Williams, Tewksbury

I was at St. William Parish in Tewksbury on Sunday (Sept. 19) for the 75th anniversary of the parish.

Father John Hanley, of the Oblates of Mary Immaculate, is the pastor.

The Oblates have served in Tewksbury for over 100 years, even before the parish was founded.

St. William's is a wonderful faith community that is very, very active. Among other things, they have Perpetual Adoration, many different programs, activities and organizations in the parish, along with a very strong social and ecumenical outreach.

It was a great joy to be a part of their 75th anniversary celebration.