---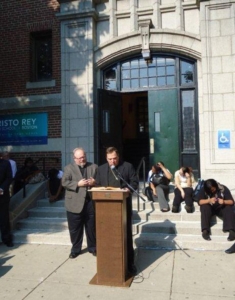 Bishop Robert Hennessey recites a blessing for the new Cristo Rey Boston High School Sept. 24. With him is Father Jack Ahern, pastor of Blessed Mother Teresa of Calcutta Church in Dorchester. Pilot photo/Patrick E. O'Connor
Help us expand our reach! Please share this article
On Sept. 24, Central Region Auxiliary Bishop Robert Hennessey dedicated the new Cristo Rey Boston High School. The school was formerly known as North Cambridge Catholic High School, and relocated this summer to their new Savin Hill location. Bishop Hennessey was the main celebrant at an opening Mass for the school at Blessed Mother Teresa of Calcutta Parish in Dorchester. Afterwards he accompanied students, school officials and local politicians to the school's new campus for the dedication ceremony.

Cristo Rey Boston is now located at the former St. William's School.

The school relocated to Dorchester to improve their facility and be geographically closer to many of their students. This year, it changed its name to Cristo Rey Boston.

The school became affiliated with the Cristo Rey network of high schools seven years ago. Students at Cristo Rey high schools offset their tuition costs through working office jobs at nearby corporations.

Notre Dame High School in Lawrence is also a member of the Cristo Rey network.

--

CatholicTV has announced the launch of a new online social networking community for Catholics at www.iCatholic.com.

Under the tagline, "I am Catholic, We are the Church," the iCatholic.com community allows visitors to establish a personal profile, upload images and videos as well as initiate and participate in discussions and forums, similar to Facebook.

"This is a place where young and young-at-heart Catholics can go to discuss their faith and questions about their faith," said Father Robert Reed, CatholicTV President. "We're coming to where you live. We're making sure we stay on the cutting edge of technology."

The iCatholic.com social community is the first of its kind. Members of this new online community will be able to suggest content for the monthly digital magazine, as well as be part of a television series coming soon to the CatholicTV Network.

--

Boston College High School has named Colleen FitzGerald director of development and Jim Nicoletti director of major gifts. The announcements were made by BC High President William Kemeza last month.

FitzGerald, who holds a bachelor's degree from St. Michael's College in Winooski, Vt., came to BC High in 2008 as the school's director of donor relations and stewardship. As a key member of BC High's Office for Institutional Advancement, she will be responsible for the planning and management of BC High's annual giving program.

Nicoletti, who holds a bachelor's and master's degree from Boston College, returns to BC High after a 25-year career in real estate. Most recently, he served as executive vice president and partner at CB Richard Ellis. Nicoletti previously taught English at BC High from 1983-1985.