Cardinal reflects on 40 years of priesthood
---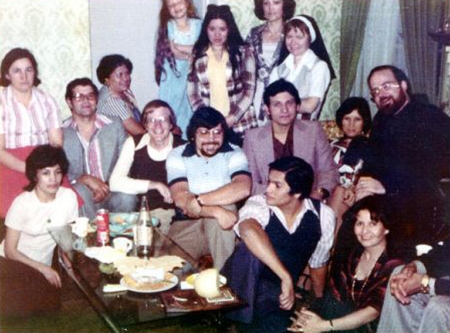 Cardinal Seán P. O'Malley is pictured with volunteers of the Centro Catolico Hispano in Washington D.C. in this undated file photo. The cardinal ministered to newly arrived immigrants Centro Catolico during his early years as a priest. Pilot photo/Courtesy CardinalSeansBlog.org
Help us expand our reach! Please share this article
SOUTH END -- Cardinal Seán P. O'Malley marked the 40th anniversary of his ordination to the priesthood on Aug. 29. He was ordained a priest of the Order of Friars Minor, Capuchin at St. Augustine Church in Pittsburgh by Bishop John Bernard McDowell in 1970.

The Pilot spoke with Cardinal O'Malley Sept. 1 at the Cathedral of the Holy Cross about his vocation to the priesthood and his early years as a priest.

Q: Your Eminence, what inspired you to become a priest?

A: Many different factors. One was the example of the priests in my life: my uncle, my parish priest. Certainly the Capuchin friars, who were a wonderful example to me in my desire to give my life to the service of Christ and his people, loomed very large in my heart as a child. It was just always part of who I was.

Q: Was there a particular moment that you clearly saw your call?

A: Well, I always talk of one moment when my father took me to a Capuchin monastery because my brother was making a retreat there. We met an old friar who was working in the fields there, in the garden hoeing and planting, and after a long conversation with him, returning home my father's words were "That's the happiest man in the world." I reflected on that, that he doesn't have a nice car, a beautiful wife, fine clothes or a fancy house, but truly he was very happy and filled with peace and joy. I thought what a wonderful way to be happy. It did make me think that my life would be happy that way too and I could bring that happiness to other people, the way that holy priest did.

Q: How old were you then?

A: I was probably 8 or 9 years old.

Q: What were your expectations when you were ordained? What did you think your life was going to be like?

A: I had thought I was going to go to one of our missions. That was changed because of the need for priests to work with the immigrants in Washington D.C. I ended up spending my entire priesthood there serving the same community. That was an extraordinary experience because in 20 years you get to know a lot of people. Because it was a very young community, an important part of what I did was catechizing and preparing people for baptism, for weddings, those kinds of events in people's lives that are so important to strengthen families and deepen their commitment to the Church and using that as a special moment of grace to connect people to the community of faith. During my years as a priest one of my great joys has been the Sacrament of Penance. I was one of the confessors at the cathedral, which was one of the centers of confession. So I spent many hours in confessions every Saturday. That was a very special privilege.

A lot of the work as a priest was just works of mercy and organizing programs for immigrants who were coming here; many needed to learn the language, or get a job, or needed medical attention. So it was a time of a lot of energy in the community. I worked with a wonderful cavalry of volunteers and religious who helped us and a lot of wonderful lay people. It was just an extraordinary experience. I cannot imagine doing anything more satisfying or more life-giving than being a priest and serving in that role as people's parish priest. It is always a great joy when I go back to Washington and so many people come up to me and say you baptized me, or you performed our marriage or you gave me my first Communion. It gives me great joy to see these people are still connected to the Church and living their faith and to have been a part of that in an important moment of their lives.

Q: If you had to single out the most important aspect of being a priest, what would it be?

A: Certainly the Eucharist is the center of the priesthood. That is where the priest is most able to serve God's people by making Christ present. The community of faith really gathers around the Eucharist; that is the family table of the Church. It is the most important aspect of being a priest. From the Eucharist comes the strength to be able to go out and do the rest of the mission so that people will be able to discover God's love in the Eucharist.

Q: Can you share one particular moment in these 40 years of priesthood that was especially happy?

A: There are so many it's difficult to narrow it down. I think the happiest moments for a priest are in the celebration of the sacraments.

Q: Can you share with us a difficult moment in those first years?

A: As a priest, the suffering that was brought about because of the wars in Central America and that so many of my people had lost loved ones. Trying to comfort them and help them to find sense in what was happening to them, those are very challenging and difficult moments for a priest. But they are important moments of ministry.

Q: When you were ordained a deacon you promised obedience to the bishop and to live a celibate life. As a friar you also took a vow of poverty. Looking back, how have those vows and promises helped you in your ministry as a priest?

A: I think they give us a freedom to be totally available where the Church needs us to be and I think there is a great freedom in the evangelical councils that make us available for the ministry of service. That is the purpose of them; they are not burdensome. They are something that energizes and facilitates our ministry to God's people.

Q: Who influenced your life as a priest?

A: I think every pope in my lifetime, they have all been so different, each of them made an impact on our lives as Catholics.

The first pope that I met was Paul VI. When I was a young friar I would be called to Rome to be an interpreter at our general chapter. He would always receive the general chapter at a private audience and it was always an extraordinary event because he would address us all so personally. Being Italian he had so many experiences with the Capuchins and so many associations. It was a moving experience.

John Paul II I think captured my imagination and other people's imagination with his strong sense of mission and particularly his dedication to young people and to families. As I read his biographies I came to understand that these were themes in his life as a priest from the time of his ordination and then they blossomed into the wonderful ministry that he did as a pope. I met him also in Washington when he visited in '79. The first time I met him was actually in Mexico, which was his very first trip. That was an extraordinary event. It was my privilege to be with him many, many times over the years, first as a priest, then as a bishop. He was the one who made me a bishop, of course. His great enthusiasm for evangelization, his great confidence and strength that was born of his faith in Christ and Christ's presence in the Church fired all of us and was a source of strength in our own ministry.

I also knew Pope Benedict XVI as a cardinal; I have always been a great fan of his writing. I think my only disappointment when he was elected pope was that he wouldn't be able to write as many books! But he has continued to teach us and to be the brilliant catechist and teacher that he always has been for the Church. I am anxiously waiting for a document to come out now on the Word of God, which I am sure will be splendid.

As I said, each of the Holy Fathers in my time -- beginning with Pius XII, then John XXIII... John Paul I was so meteoric we never had much of a chance to identify with him -- each of them were so different. Each of them made a special contribution to the life of the Church. You see God's loving providence for the Church. The Office of Peter is of utmost importance for the community of the Church to strengthen our faith and to guide us in the midst of all the philosophical turmoil, ideological turmoil in which we live, to keep us grounded in truth and the Gospel.

Q: Do you think it's harder to heed the call to the priesthood today than it was when you were called?

A: Certainly in today's world and with the greater secularization and after the scandals it does require great strength to respond generously and courageously to a vocation. I think in different times it may have been easier to respond. I think the challenges of the vocation are always there in every generation. Even for the apostles; to leave their families and their life and to follow Jesus was difficult. The priesthood is not meant to be easy; it's about doing difficult things out of love for God and counting on his grace and help to do them.

Q: What would you tell others who may be considering a vocation to the priesthood?

A: I think it's the greatest life. It's challenging, there are moments of difficulty. I cannot imagine any other profession, career, way of life or job that even comes near what is the Catholic priesthood. I think if someone embraces it wholeheartedly it will be a source of joy. Certainly the presence of the priest in people's lives, helps them to experience the pastoral love of the Good Shepherd. What can be greater than that?