Father James Carroll granted senior priest status
---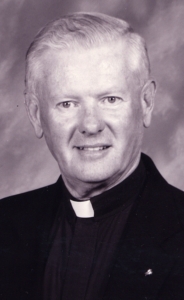 Father James Carroll Pilot photo
Help us expand our reach! Please share this article
Father James Carroll, a priest of the archdiocese since his ordination on June 12, 1968 has been granted senior priest/ retirement status due to health reasons. The Pilot announced this in late June. The effective date of his resignation as pastor of St. Mary Parish, Georgetown, which also serves Rowley, was delayed until the appointment of Father Carroll's successor. This will happen on Sept. 13, 2010 when Father Robert Poitras moves there from Milton.

Born on Nov. 8, 1940, Father Carroll attended archdiocesan seminaries. Richard Cardinal Cushing ordained him to the priesthood on June 12, 1968. Father Carroll has been assigned to four archdiocesan parishes each of them in the Merrimack Region and interestingly each one of the towns borders the other... he seems not to have strayed too far over 42 years!

Following his ordination he was assigned to St. Patrick Parish, Groveland, the parish was merged with Sacred Hearts in Haverhill's Bradford section. He was an assistant there from 1968 to 1980. He then began another 12 years stint as an associate pastor at St. Monica in Methuen. His shortest assignment was the next one -- pastor of St. Rita Parish, Haverhill where he served from 1992 to 1998. That parish was one of several combined to create the present All Saints Parish in Haverhill.

Father Carroll's last assignment, prior to his retirement, has been as pastor of St. Mary, Georgetown. In addition to his regular parish responsibilities, he also met the challenge of bringing together into one parish the parishioners of the now closed St. Mary Parish in neighboring Rowley.

He had been experiencing health problems recently and they worsened, rather than affect the parish he asked to be given senior priest status so that he could dedicate the proper time to his health concerns and to open the door to a new pastor.