CatholicTV to air new art show
---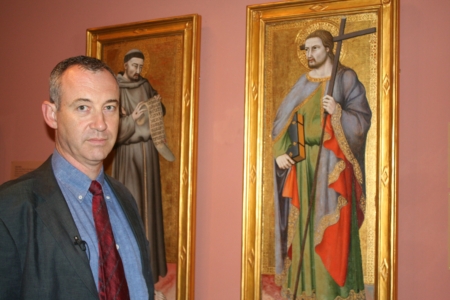 Beginning Sept. 6, David Clayton, the artist-in-residence at the Thomas More College of Liberal Arts in Merrimack, N.H., will host his "Way of Beauty" television program on CatholicTV. The show is named for the art program Clayton established at the school. Pilot photo/Courtesy CatholicTV
Help us expand our reach! Please share this article
BOSTON-- Starting Sept. 6, "Way Of Beauty," a new Catholic art show, will debut on CatholicTV. The show is hosted by Oxford-educated David Clayton, currently Artist-in- Residence at the Thomas More College of Liberal Arts in Merrimack, N.H.

"There's really a need for Catholics to become much more aware of our traditions," Clayton said. "If we are to promote a culture of beauty, Catholics need to reconnect with their own traditions."

Clayton also said the program has value for non-Catholic audiences, and that the show will examine art from a perspective different than what is seen in modern art books, which he says examine art through a "secular lens."

The series will air on CatholicTV cable outlets starting the week of Sept. 6 on Tuesdays at midnight, Wednesdays at noon, Thursdays at 7:30 p.m., Saturdays at 3:30 p.m. and Sundays at 6:30 p.m.

Each week, a new, full-length episode of Way of Beauty will be added to the CatholicTV.com website. Starting the week of Sept. 6, simply visit http://www.CatholicTV.com/catholic-art.

Way of Beauty will examine what constitutes a tradition and how it is taught and passed on so that it can respond to the times while retaining its essential principles. The series will show how the style of these traditions can be related directly to the liturgy, theology, and philosophy of the Church.

The show will examine Catholic artistic traditions such as iconography and sacred geometry, which are often seen in Catholic churches. The series will also look at historical artistic traditions such as Gothic and Baroque.

"Christian culture, like classical culture before it, was patterned after the cosmic order, whose unifying principles run through every discipline," Clayton said. "Literature, art, music, architecture, philosophy--all of creation and, potentially, all human activity--are bound together by this common harmony and receive their fullest meaning in the rhythms and patterns of the Church's liturgy."

"The principles of beauty are applicable to all aspects of daily life, including business, the academy--indeed, in all areas of human engagement," added Clayton. "This is the via pulchritudinis--the way of beauty--that Pope Benedict has spoken of as the most attractive path to God."

Thomas More College established its Way of Beauty art program to analyze Catholic traditions in art as an expression of a Catholic worldview. It draws on the principles articulated by figures from the early Church, such as St. Augustine. Such artistic tradition was drawn to our attention by John Paul II in his "Letter to Artists," and especially by Pope Benedict XVI, who calls us to embrace the sacred arts.