One man, one month -- a walk for peace
---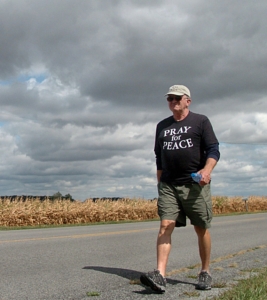 Al Forte, 67, of Stamford, Conn. is pictured during his 2008 walk for peace from New York to Chicago. Forte will begin his latest walk, from Boston to New York, later this month. Pilot photo/Courtesy Al Forte
Help us expand our reach! Please share this article
BRAINTREE -- A Connecticut grandfather who has walked for miles to spread the message of peace is expected to soon begin another lengthy walk in Boston to promote his cause.

Al Forte, 67, a Stamford, Conn. resident and grandfather of four, will begin his Walk for Peace Aug. 23 at Boston's Old North Church. The roughly 250-mile trek is expected to end Sept. 24 at Yankee Stadium.

Forte said that the purpose of the walk is to promote peace and encourage people to pray for it.

"We always say we're a peaceful country. We've never achieved it as human beings. That's because we've never gone to God," Forte said. "If everybody in the world prayed for peace, there would be peace."

Forte will kick off the walk with a dedication ceremony at the church. He said it was appropriate to start at the historic church because it has a memorial garden honoring those who died serving in Iraq and Afghanistan. Though details are being hammered out, he said the ceremony is expected to begin after 11:30 a.m.

From there, he will be walking to Fenway Park for the Red Sox game against the Seattle Mariners at 7:10 p.m. He has been invited by the Red Sox to be on the field prior to batting practice but is still making specific arrangements with the team.

He will depart Fenway for the remainder of the route to New York the following morning, Aug. 24. After departing Fenway Park, Forte will walk to Providence, R.I., Hartford, Conn., and New Haven, Conn. before ending in New York City at Yankee Stadium.Forte said he is hoping to attend the New York Yankees game against the Red Sox on Sept. 24.

He said he would walk 10 miles per day, excluding weekends, during the morning and evening hours.

As he walks, he will be wearing a shirt that encourages people to pray for peace and distribute peace prayer cards with a peace prayer to those he passes. On one side of the card is a picture of soldiers saying, "They prayed for peace, won't you?".

Forte has been walking for peace since 2008, and since then has distributed over 15,000 prayer cards.

His first walk lasted 79 days. Covering roughly 15 miles per day, Forte walked along stretches of the old Lincoln Highway from New York City to Chicago.

"We have such a beautiful country and I really got to appreciate it on that walk," Forte said.

Along the way, Forte, a baseball fan, attended Major League Baseball games in Philadelphia, Pittsburgh and Cleveland.

He was not able to attend a baseball game in Chicago because the season had concluded before he arrived in the Windy City.

The following year, Forte conducted a local walk near his hometown and his first Boston to New York walk where he participated in pre-game, on-field activities at Fenway Park.

He said he became inspired to promote the cause of peace when he was in church one Sunday and an image of Middle Eastern parents grieving the loss of their dead child came into his mind.

"I have three children and four grandchildren and I knew how they must feel," he said.

"I kept on thinking, what could I do?," he added. A walk would be good to spread the message, but it's only me."

Forte was contrasting his walk with larger scale walks held by major non-profit organizations that can draw thousands of people.

Forte's walk will draw one person, and maybe a few others who may meet him on the journey.

"There might be a more effective way. I'm only Al Forte from Stamford, Connecticut," he said. "At least I feel like I'm doing something now."