CYO golf tournament offers unique playing experience
---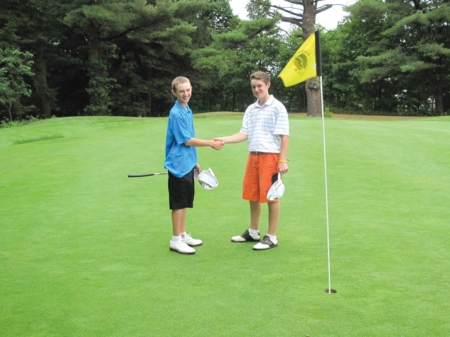 Nick Drago, 15, and Jack Corcoran, 15, congratulate each other after their championship round match in the CYO Golf Tournament July 15 at Ponkapoag Golf Course in Canton. Drago defeated Corcoran by two strokes with one hole remaining to win the junior division. Pilot photo/Jim Lockwood
Help us expand our reach! Please share this article
CANTON -- For many local youth golfers, the CYO Golf Tournament, organized by the Archdiocese of Boston's Office for the New Evangelization of Youth and Young Adults, offers a unique playing experience not often used at other tournaments and matches in which they often compete.

"If it were stroke play all the way through, it would have been much tougher," said Sam Wilcox, 20, who finished second in the senior division. "Anything can happen in match play, which I like."

From July 12 through 15, 84 youth and young adult golfers competed in the 71st annual tournament at Ponkapoag Golf Course. The tournament is the oldest junior golf tournament in New England, said Peter Williams, athletic director for the Archdiocese of Boston's CYO program.

The first round was stroke play, with the lowest 16 scorers in each of the four age division advancing to the elimination rounds. Over the remaining three days, the top golfers in each age group (8 in the intermediate and senior divisions and 16 in the junior and cadet divisions) competed in bracketed tournament match play where each golfer had to win more holes than his opponent.

In the senior division, Jack Bandera defeated Wilcox by six strokes with four holes remaining; and in the intermediate division Mike Mulkerrins defeated Pat Ford on the last hole. Nick Drago defeated Jack Corcoran by two strokes with one hole remaining in the junior division; and in the cadet division, Matt Walsh defeated Jake Ratti by five strokes with four holes remaining.

"That format is really not an American format," Williams said. "It's a great education for them."

"It places the importance on consistent performance," Williams added.

Ford, 16, of Our Lady of the Lake Parish in Halifax, competed in the tournament for the first time this year. He said his friend told him of the match play format.

"I think I'm better in match play," Ford said. "If I mess up on one hole, it doesn't make that big of a difference."

"It's more legit than other tournaments," he added. "It's more than one day. You have to play well to earn your spot."