Second Dorchester statue desecrated
---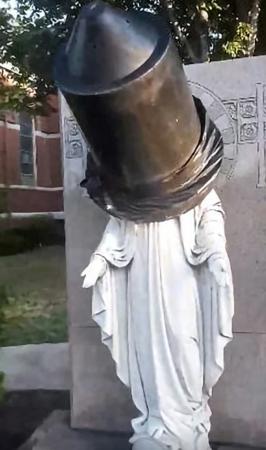 Pilot photo/courtesy Catholic Action League
Help us expand our reach! Please share this article
DORCHESTER -- During the same period of time that a statue at St. Peter Parish in Dorchester was being vandalized, a statue at the nearby St. Teresa of Calcutta Parish was also desecrated, according to the Catholic Action League of Massachusetts.

Sometime overnight between July 11 and July 12, someone emptied the contents of a trash barrel onto a church walkway and then placed the barrel over the head of the statue of the Virgin Mary, the League said. Four days later, on the morning of July 16, a passerby discovered the same barrel over the head of the same statue.

The League called the desecrations "an appalling, depraved, and sacrilegious expression of contempt for Our Lady, for the Catholic Faith and for the Catholics of Boston," and called on the Boston Police to undertake a hate crime investigation into the incidents.