'Warrior Nun,' streaming, Netflix
---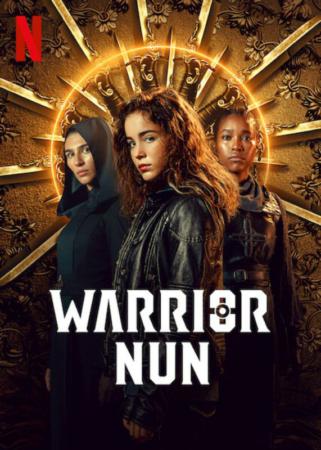 This is the TV poster for "Warrior Nun" streaming on Netflix. (CNS/Netflix)
Help us expand our reach! Please share this article
NEW YORK (CNS) -- As might be feared, or at least expected, from its title, pseudo-Catholic nonsense abounds in "Warrior Nun."

For those inclined to expose themselves to such material, the 10-episode series -- derived by creator Simon Barry from the work of comic book artist Ben Dunn -- is currently streaming on Netflix.

The murky plot kicks off with the more or less accidental resurrection of our heroine and narrator, Ava (Alba Baptista), a recently deceased quadriplegic teenage orphan. Upon resuscitation, Ava discovers that she's not only no longer paralyzed but has, in fact, been endowed with superpowers.

Ava's new abilities, like her revival, come courtesy of a so-called "halo," a round, flaming subcutaneous insert that serves as a kind of spiritual battery. This object, it seems, ranks as the most precious "relic" of an order of battling women religious -- the phrase "ninja nuns" comes inescapably to mind -- whose existence the world has somehow managed to overlook.

How did this object wind up under Ava's skin? Was it, as it first appears to be, by chance? Or was it ... her destiny?!

Unaware of fate's beckoning, and with little to occupy her time for the moment, Ava wanders around the program's picturesque Andalusian setting before teaming up with a group of squatters occupying a seaside mansion.

She and the most prominent member of this little band, JC (get it?), played by Emilio Sakraya, meet cute after Ava, anxious to cool off and forgetting for the moment that she doesn't know how to swim -- details, details -- jumps into the deep end of the manse's pool. This gives rise to a feminist theme about Ava not wanting JC to think of her as a girl who needs to be, um, saved.

Back in Dan Brown World, meanwhile, everyone's aflutter to get their halo back. That includes kindly seeming Father Vincent (Tristan Ulloa), priest-in-charge of the show's counterpart to Hogwarts, and the aptly nicknamed Shotgun Mary (Toya Turner), the roughest and toughest of its denizens.

Even overripe Cardinal Duretti (Joaquim de Almeida), at whose approach all and sundry bow respectfully, is preoccupied with the loss.

Aside from a single, breathtakingly tasteless joke about clergy sexual abuse, the treatment of matters ecclesiastical in the first two installments is shoddy and dimwitted rather than outright offensive. The bond between Ava and JC, moreover, is old-fashioned enough that they're still taking their time getting around to their first kiss.

JC's attempt to justify living in someone else's house without their knowledge -- the owners are Saudi one-percenters who only use the place a few weeks a year -- is, however, dodgy at best. And the dialogue carries enough vulgarity to put this off-limits to youngsters even without the off-kilter depiction of the church.

As for grown-ups, it's a safe bet that they'll soon weary of "Warrior Nun."

- - -

Mulderig is on the staff of Catholic News Service.