Parishes cope with COVID-19 in hard-hit cities
---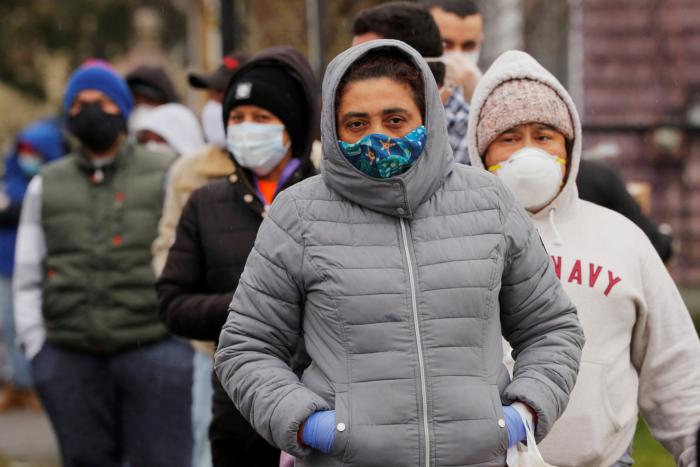 Chelsea residents wait in line for free groceries distributed at a pop-up food pantry in April. NewscomXQ photo/Brian Snyder, Reuters
Help us expand our reach! Please share this article
BRAINTREE -- Throughout the COVID-19 pandemic, Massachusetts has been one of the states with the highest numbers of confirmed cases in the nation. Within the Commonwealth, the cities with the highest numbers of confirmed cases include Brockton (3,179), Chelsea (2,244) Lawrence (1,975), and Revere (1,307). The Pilot spoke with parish leaders in these cities about the challenges people are facing during this crisis.

The people of Lawrence are no strangers to catastrophe. In fact, the crisis caused by a series of natural gas explosions in September 2018 helped them learn how to communicate and support each other. These lessons have proven valuable in the wake of the COVID-19 pandemic.

Father Paul O'Brien, the pastor of St. Patrick Parish in Lawrence, said people in his city have been "overall quite calm."

"They have been quick to connect with one another and support one another, because we've been through a real disaster quite recently," he said in a May 5 interview.

Across the street from his parish, Cor Unum Meal Center has continued to operate during the pandemic in the same way it did in the aftermath of the gas explosions, by providing to-go meals rather than a sit-down, restaurant-style meal. Public schools in Lawrence have also been providing meals for two hours every day.

Meanwhile, over in Brockton, the food pantries run by two parishes' councils of the Society of St. Vincent de Paul (SVdP) have been adapting their protocols in order to distribute food to clients without spreading the virus.

"There are a lot of families in need of help. And I think it's hard for the ones that haven't needed the help before. A lot of them, it's their first time coming," Donna Widener, president of Christ the King Parish's SVdP, said in a May 4 interview.

At the onset of the pandemic, the SVdP of St. Edith Stein Parish in Brockton decided to continue running its food pantry while modifying the distribution process. Usually, when the pantry opened each Sunday, clients would assemble in the basement, where they could enjoy donuts and coffee while waiting for their number to be called. Now, they wait in line outside the building, six feet apart, and one family at a time comes in to receive food and exit through a different door.

Joseph Lapointe, the president of St. Edith Stein's SVdP, said they have seen an increase in people coming to the food pantry, "people that have never needed help before that are starting to need the help of food pantries." Under normal circumstances, he said, the pantry would serve about 25 to 30 families. On May 3, they served 48 families, including 18 coming for the first time.

Lapointe said they have temporarily suspended other forms of assistance, such as helping with rent and utility bills. The majority of their funding comes from the poor box, which has declined since Masses have not taken place for two months.

"We're such a very active parish, people not being able to go to Mass, I think, has probably been the biggest impact for the average person, the average parishioner," Lapointe said.

Linda DeCristoforo has seen the emotional and spiritual toll of social distancing on local Catholics, both practicing and non-practicing. She is a pastoral associate at Morning Star Catholic Collaborative, which consists of Our Lady of Grace in Chelsea and St. Mary of the Assumption in Revere.

"I've had a lot of people who haven't been to church reach out to me and say that they can't wait to come back or they feel a desire to be a part of something again," DeCristoforo said.

She began holding weekly Bible studies via Zoom after Easter. Participants study the Scripture readings for the upcoming Sunday, but they also talk and pray together, sharing their anxieties and hopes. They try to see where God is present in the midst of their experiences during the pandemic.

DeCristoforo said people have expressed a "deeper yearning and respect" for the Eucharist since Masses were suspended.

"They desperately miss church, and they desperately miss the Eucharist," she said.

Another common challenge for parish leaders is ministering to the sick, the dying, and the bereaved when social distancing prevents people from visiting each other and gathering in person.

"There is a lot of pain for people who have experienced the death of loved ones. It's a challenge (because) we're used to coming together in a robust way when someone we love dies," Father O'Brien said.

Father Michael Adebote, SMA, pastor of the Brockton Catholic Tri-Parish Collaborative, said people contact him if someone in their family has tested positive or died of COVID-19, to ask for his prayers and support.

The Brockton parishes have been using FaceTime to pray with people who are dying in hospitals and nursing homes, where new regulations may restrict visitors.

"It's a very unfortunate time, not being able to be by the side of such people, but it is somewhat consoling to be able to speak with them, to make them hear us, to see them, to pray for them, and I believe God is able to penetrate all things," Father Adebote said in a May 1 interview.

He said he recently talked about how Jesus was able to be present with his apostles despite their locked doors. Similarly, the fact that they cannot be at a dying person's bedside "does not mean that Christ is not hearing their prayer, does not mean that the Church is not supporting them," Father Adebote said.

The Tri-Parish Collaborative also receives calls from funeral homes with news of deaths, so its consolation ministry can contact bereaved families.

Father John Sheridan, pastor of the Morning Star Catholic Collaborative, said he has been averaging four or five burials a week, primarily for people who died of COVID-19. St. Mary of the Assumption Church in Revere is located near three different cemeteries.

"It's really heartbreaking for families, and for us, too, because we want to minister to them. You know, our instinct is to reach out and bring people together, and we can't do that yet. So we wait in joyful hope for that day," Father Sheridan said.

He said he is thankful for people's patience, something he has been speaking about in his livestreamed Masses and parish emails.

"As we wait for Ascension and Pentecost, we wait for the day when we'll be liberated," Father Sheridan said.