Obituary: Father Richard Craig, former Catholic Charities Director and pastor in Chelmsford
---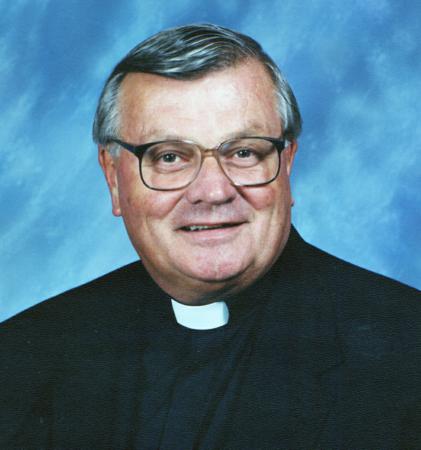 Father Richard J. Craig Pilot file photo
Help us expand our reach! Please share this article
A Cambridge native where he was born on Dec. 2, 1935, Father Richard Craig died at Marian Manor in South Boston on Oct. 27. He had been in residence at the long-term care facility so ably and well managed and served by the Carmelite Sisters of the Aged and Infirmed.

He was a son of the late John and Adeline (Leavitt) Craig and was raised in Cambridge and Arlington. He attended St. John Preparatory School in Danvers. On graduation from "the prep," he entered St. John Seminary and following his philosophy and theology studies he was ordained to the priesthood at Holy Cross Cathedral by Richard Cardinal Cushing on Feb. 2, 1961.

The cardinal appointed him assistant at St. Gerard Majella, Canton, where he served from 1961 to 1965; he served briefly as an assistant at St. Peter, Cambridge before being assigned to residence at St. Leo in Dorchester in 1965.

Between 1965 and 1969, while at Dorchester, he pursued graduate studies in social work at Boston College, commuting for classes between Roxbury and Chestnut Hill. Armed with his degree, he was named assistant director of the Family Counseling and Guidance Center, serving with the late Msgr. Joseph Alves.

In 1981, he was named director of the Cambridge- Somerville office of Catholic Charities of the archdiocese, during the time of the merger of Family Counseling and Guidance with Catholic Charites and the restructuring and reorganization of the Social Services efforts of the archdiocese. In 1985, he was appointed administrative director of Catholic Charities and, in 1987, its director.

His more than two decades of service in Catholic Social Services came to its end in 1989 when he was granted a sabbatical year at the Catholic University of Louvain, Louvain-la-Neuve, Belgium.

When he returned home to the archdiocese, he named pastor of St. John the Evangelist Parish in Chelmsford by Bernard Cardinal Law on March 12, 1990. Bishop Richard Lennon, apostolic administrator of the archdiocese granted him senior priest/retirement status on Jan. 3, 2003.

Following his retirement, he lived in his personal residence at Alton Bay, N.H. and then at Regina Cleri Residence, Boston, before being moved to Marian Manor.

Auxiliary Bishop Emeritus Arthur L. Kennedy was the principal celebrant of Father Craig's Funeral Mass celebrated Nov. 5 at St. Agnes Church, Arlington. Father Paul Kilroy, campus minister at Regis College, Weston, was the homilist and concelebrants included the parish pastor, Father Marc Bishop, parochial vicar Father Michael Zimmerman, and classmates and senior priests: Msgr. Cornelius McRae, Weymouth; Father John Schatzel, Bryantville; Father Robert Browne, Regina Cleri, Boston; and Father Patrick McLaughlin, St. Agatha, Milton.

Father Craig's immediate survivors are his sisters Anne Quin, Yarmouth and Marilyn DeOrio, Salisbury. Following the Funeral Mass Father Craig was buried in Mount Pleasant Cemetery, Alrington.