St. John Paul II still challenges Catholics to be holy, pope says
---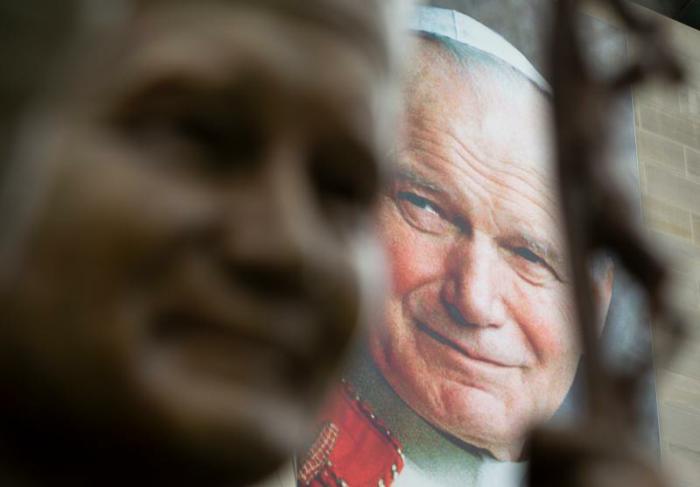 A banner of St. John Paul II is seen behind his sculpture May16 at the St. John Paul II National Shrine in Washington. (CNS photo/Tyler Orsburn)
Help us expand our reach! Please share this article
VATICAN CITY (CNS) -- The teachings, life and holiness of St. John Paul II can help guide and protect people on their daily journey toward Christ, Pope Francis said.

Greeting Polish pilgrims from the Archdiocese of Krakow, which Pope John Paul led from 1964 until he was elected pope in 1978, Pope Francis thanked God for this "great pope" who led the church into the new millennium. The group was in Rome to celebrate the 40th anniversary of their countryman's election as pope Oct. 16, 1978.

"May his teaching, his example of holiness and his intercession guide and protect our daily, at times difficult, journey along the path of the Lord," Pope Francis told them at the end of his weekly general audience in St. Peter's Square Oct. 10.

Meeting the group earlier in the Vatican's Paul VI audience hall, the pope said the rich patrimony his predecessor left to the church and to his fellow Poles represents "a challenge to be faithful to Christ and to answer with joyful dedication the call to be holy."