Parish nursing program helps professionals give back to their communities
---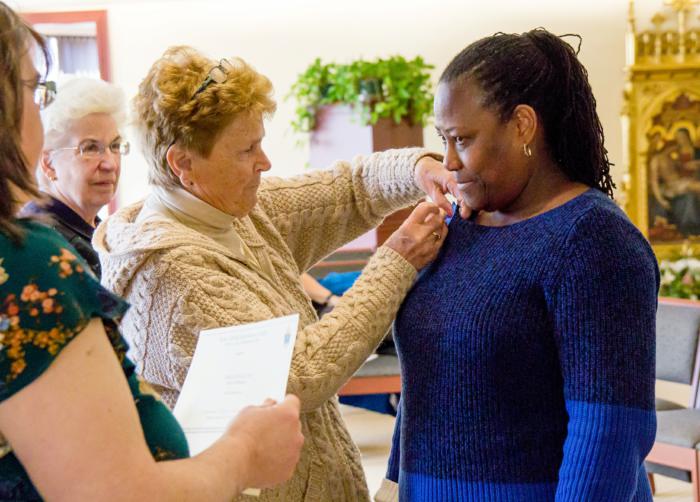 Marie Dorlus of Dorchester/Mattapan Catholic Collaborative, one of six nurses completing the archdiocese's Foundations of Faith Community Nursing course this spring, receives her pin during a ceremony at the archdiocese's Pastoral Center, April 21. Pilot photo/Mark Labbe
Help us expand our reach! Please share this article
BRAINTREE -- For up to a dozen hours each week, Barbara Logan visits the sick and the elderly. She visits them in assisted living facilities, in hospitals, in their own homes, going to them because often they cannot come to her. She brings them Communion and holds their hand, speaks to them about their health and their health care, and sometimes just about life and about death. She might check their medications or their blood pressure, and refer them if something seems wrong.

A parishioner of Holy Trinity Parish in Quincy, Logan is a parish nurse. It's a volunteer position, something to keep her busy since retiring in 2010 after decades of working as a recovery room nurse.

"I didn't want to just retire and not do anything," Logan told The Pilot April 21. Parish nursing "keeps me doing what I love."

Medically-based and incorporating spirituality, parish nursing, also called faith community nursing, is motivated by the idea of giving -- giving one's time and experience to lend support to a local or parish community, particularly to those in the community who cannot support themselves.

The Archdiocese of Boston has a ministry dedicated to parish nursing, the Faith Community Health and Parish Nursing Ministry. Led by director Deacon James Greer, the ministry serves as a way to educate, create, and lend support to parish nurses throughout the archdiocese and beyond.

Logan's daughter, Karen Wenger, a former ER nurse and a nurse educator, is the Faith Community Nursing Educator for the archdiocese. She runs the faith community nursing courses, and is responsible for forming parish nurses. Since first coming to the archdiocese about four years ago, Wenger has formed and educated dozens of parish nurses.

Speaking to The Pilot April 20, Wenger said she has had people in her classes from other dioceses, and has educated people of different faiths. Faith community nursing, she explained, isn't just open to Catholics, or even Christians for that matter. It is training that can be beneficial to anyone, and to any community.

In essence, she said, parish nursing is about helping communities, helping people, and "Everything we do is to promote the inherent dignity of the human person."

Lately, there has been a push to aid in the opioid epidemic, and many area parish nurses are putting up posters and signs, handing out flyers, and collaborating with community groups to explain the dangers of drug abuse and the disease of addiction.

Many other parish nurses aid the elderly or the sick with after-hospital care, including speaking with them about medications and their plan for health care. Other times, a parish nurse might host a free blood pressure clinic at his or her parish, or give an educational talk.

"There's all different things we can do, it really depends on who's in our parishes, what are their healthcare needs (and) what are people looking for in terms of information," she said.

Logan and Wenger took a parish nursing course together back in the early 2000s. Earlier this month, the two also attended an international conference on faith community nursing at the International Parish Nurse Resource Center in Memphis, Tennessee.

According to Logan, the conference was attended by about 300 people, and served as an opportunity to learn best practices and connect with other parish nurses.

The courses Wenger teaches are based on materials from the Memphis center. Typically, the courses involve a little less than 40 contact hours, and have taken place on Saturdays at the archdiocese's Pastoral Center in Braintree. They run all day on Saturdays, taking about five sessions to complete the course. Generally, said Wenger, courses are offered twice a year.

On April 21, Wenger's most recent course came to a close with the "graduation" of six prospective parish nurses. At the Pastoral Center, the graduates participated in a prayer service, and were given certificates and pins. A few family members of the graduates were present, and clapped as their loved one received their recognition.

At a small reception held following the ceremony, Charles Bergeron, one of the new graduates, told The Pilot the course was "very thorough," and had "a lot of spirituality involved in it," which, as a Catholic and a parishioner of St. Mary of the Annunciation in Danvers, was something he enjoyed.

Bergeron is a nurse case manager, and though he enjoys the job, he doesn't know how much longer he will do it. He is approaching retirement age, he said, and he's beginning to plan for life after retirement.

To him, after years of working to support himself and his family, retirement would mean "more time for the Church," and for the community.

"I want to do something towards the later part of my life for other people," he said, and thought that parish nursing would be a good step.

"I think it is my time to give back to the community," he said, his new pin pinned on his shirt, his certificate on the table that stretched out before him.