Ordination Class of 2018: Deacon Benito Moreno
---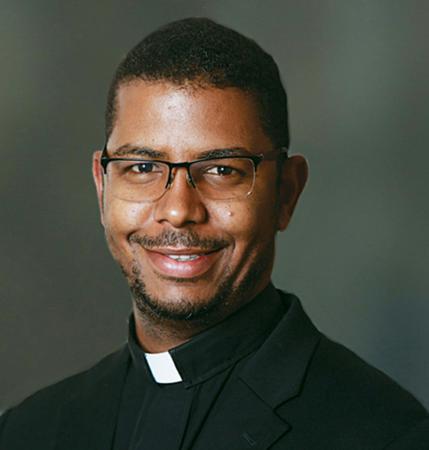 Deacon Benito Moreno Pilot photo/George Martell
Help us expand our reach! Please share this article
[This is the third in a series of articles profiling each of the seven men who will be ordained to the priesthood by Cardinal Seán P. O'Malley at the Basilica of Our Lady of Perpetual Help (Mission Church) on May 19.]

"Ever since I had reason, my parents were in the Church," recalled Deacon Benito Moreno. "The Church was always present in my life."

Growing up the oldest son of Benito and Maria Altagracia Moreno -- he had two older half-brothers -- priests were often at his house. As soon as he was old enough, he volunteered as an altar server in his parish in the Dominican Republic.

Deacon Moreno, 33, recalled that the first time he really thought God was calling him to the priesthood he was a 16-year-old boy.

"I didn't want to listen to it," he laughed. "I wanted to marry and have kids, not stay in a rectory alone all my life!"

The call came once again when Deacon Moreno was 20. Now in college, he was at a place where, he said, "I didn't understand anything about my life."

"We were having difficulties in my family, I was having difficulties relating to others -- this was definitely a dark time in my life," he said.

During Holy Week that year, as he was serving at the altar, Deacon Moreno "took a long hard look" at his life, he said.

"I thought -- I have no girlfriend, I am almost 21, and I am still an altar server. Maybe God is calling me to stay on the altar," he said.

Almost instantly, clarity came over him and his difficulties seemed to lose their importance, he said. He told his mother about the call he felt, and she was very supportive from the beginning. His father, on the other hand, was a bit skeptical at first, but has quickly grown fond of the idea of having a priest for a son.

"In fact," laughed Deacon Moreno, "at this point I think he is more excited about my ordination than me!"

As soon as he gave into God's call, Deacon Moreno went to speak with the catechists who led the Neocatechumenal Way in his parish, who suggested he apply to the seminary. Within two weeks, he was accepted into the pre-seminary program in the Dominican Republic. Two months later, Deacon Moreno was at a retreat in Italy, where seminarians are assigned to different Redemptoris Mater Archdiocesan Missionary Seminaries throughout the world at the request of the local bishop.

"I never thought I would go to Boston," he said. "In fact, when I was told that I was going to Boston, all I could think of was the Red Sox!"

His time in the seminary has been "invaluable," Deacon Moreno noted. "I will miss the bonds formed with the seminarians. The relationships forged here are unique. All these men from all different places all unified in their desire to serve God -- it's really special."

He also mused on his three years of missionary experience, an integral part of the priestly formation at the Redemptoris Mater Seminary. His first year, Deacon Moreno was sent as a missionary to Our Lady of the Assumption Parish in East Boston.

"I learned quite a bit about myself that year," he said. "At first, I was very unhappy that I didn't go somewhere cool, or somewhere different. But then I realized that I have to be open to evangelize anywhere in the world, including right where I am."

The following two years, Deacon Moreno was in New Orleans, Louisiana and Laredo, Texas, where he helped a missionary family as they evangelized.

"I really liked being with a family because it helped me to see families as they are and it took a bit of the fantasy of what a perfect family is all about," he said. "It really is tough to have a Christian family in this society!"

As his ordination day draws near, Deacon Moreno is looking forward to being able to help parishioners, particularly those looking for the sacrament of reconciliation.

"There have been a few times this past year when I open the door of the rectory and someone wants me to hear their confession and I can't do it because I am just a deacon. It has made me feel bad that I can't give them what they need," he said.

In addition, Deacon Moreno noted that he is looking forward to "being there for others," but noted that he realizes that priests run the risk of becoming "doers, not receivers."

"I personally have to be in communion with God at all times," he said. "If I'm just doing, doing, doing and trying to avoid problems, without focusing on my relationship with Jesus Christ, then I will lose flavor. I have to always remember to stay close to Jesus Christ and entrust him with my priesthood and my life."