Catholic students among those to rally next month against gun violence
---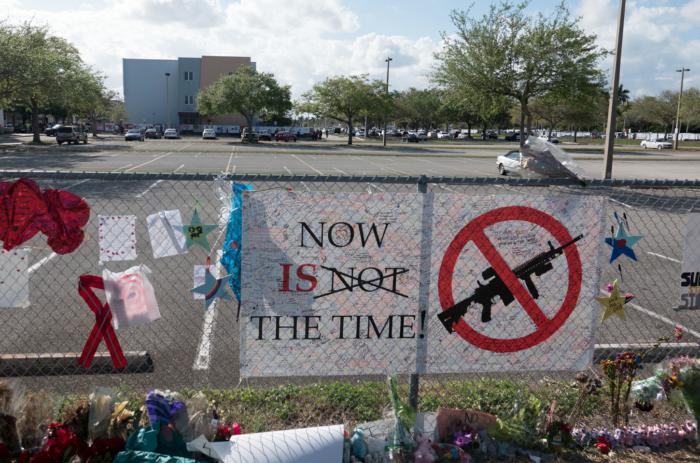 Messages hang on a fence as hundreds of students and parents arrive for campus orientation Feb. 25 at Marjory Stoneman Douglas High School in Parkland, Fla. CNS photo/Angel Valentin, Reuters
Help us expand our reach! Please share this article
BRAINTREE -- Yvonne Niebuhr, a Catholic and a senior at Montrose School in Medfield, is used to rallying for life. The past four years, she's participated in the March for Life in Washington, D.C., and firmly believes that "life is a most precious gift from God."

On March 24, she will be marching for life again; joining thousands across the country to call for the end of gun violence and school shootings in the wake of the Feb. 14 at shooting at Marjory Stoneman Douglas High School in Parkland, Florida that left 17 dead and over a dozen more injured.

"If we're fighting to protect the lives of children inside the womb, we should be to protect the lives of children outside the womb as well," said Niebuhr, speaking to The Pilot Feb. 23.

Niebuhr is planning to attend the March for Our Lives rally in Boston on March 24, where an anticipated crowd of thousands of teen and young adults will demand that their safety, particularly in schools, become a priority, and that gun violence be ended through more comprehensive gun control measures.

The Boston rally will be held in conjunction with dozens of March for Our Lives events throughout the world, with a national rally planned for Washington, D.C. Organized almost entirely by students and young adults and gaining support from high profile politicians, organizations, and celebrities, the rallies were sparked by mass shootings.

Almost immediately following the shooting, student survivors, grieving and angry, announced the march in Washington, and formed the activism organization Never Again MSD, also known as #NeverAgain on social media. The group has actively been staging protests demanding legislation to prevent similar shootings and condemning U.S. lawmakers who receive political contributions from the National Rifle Association (NRA). In the days since they were announced, both the march and the group have received extensive media coverage and support.

For Niebuhr, the reason for marching is clear: life is a gift from God, and loose regulations on guns enable shooters to snuff out that gift.

She remembers the 2012 shooting at the Sandy Hook Elementary School in Newtown, Connecticut, when 20-year-old Adam Lanza shot and killed his own mother before driving to the school and killing 26 more people, including 20 children between six and seven years old. Niebuhr was in eighth-grade at the time, and, looking at the images of those who were killed, "all the victims and all those little children," she wanted "that to be something that never happened again."

Yet still, she said, "this many years later, it's still happening so much."

"To have that life so easily taken away so frequently, because these shootings do happen very frequently, it's really not right," she said.

Niebuhr hopes the March 24 rally, which she plans on attending with friends, will help bring about change in the way firearms are regulated. She pointed to the Feb. 22 passage of a state bill in Oregon that bans people convicted of stalking and domestic violence or under restraining order from purchasing or owning firearms as a step in the right direction. Concern over students' safety should be prioritized over concern over gun owner's rights, she said.

"Right to life should absolutely take priority over a right to bear arms, because one of those is written by God, and one of those is written by our country. And frankly, I think God takes priority," said Niebuhr.

Julia Mullert, a freshman at Boston University and a graduate of Ursuline Academy in Dedham, also plans on attending the rally.

She wasn't surprised when she saw the Parkland shooting on the news, she told The Pilot Feb. 23, "because school shootings have been so common," but, she was horrified, saddened, and angry.

She became inspired, too, after seeing the activism of the student survivors.

"I wanted to be a part of that, and I wanted to use my voice to help make a difference," she said.

Mullert, who is studying international relations major and journalism, explained that she doesn't take issue with the Second Amendment, but wants to see additional gun control legislation passed. In particular, she said, there should be more comprehensive universal background checks on anyone who wishes to purchase a firearm, and for those who are able to purchase a weapon, a mandatory 48-hour wait period should be enacted. Additionally, Mullert is advocating for a ban on assault rifles, like the one used in the Parkland shooting. Those are weapons of war, she said, are "not needed for casual hunting and they're not needed for fun. The risk is too great."

The proposals are "just sensible gun control," she said. "It's not proposing to take guns away from people, it's not infringing on people's constitutional rights, but it is lowering the chances of another school shooting like we've seen in Sandy Hook and in Parkland."

In a Feb. 16 blog post, two days after the Parkland shooting, Cardinal Seán P. O'Malley offered prayers for those affected by the tragedy, but also echoed calls to "do more to prevent these deadly occurrences."

"We must develop reasonable and effective policies that prevent access to such weapons by persons who have no need of them," he wrote. "We must not blame or stigmatize mental illness, but we must identify the factors that indicate a person is at risk for harming others and make the commitment to achieve better understanding, treatment and care for this terrible illness."

"There can be no rational justification for allowing private citizens to have personal arsenals of assault weapons," wrote Cardinal O'Malley.

The Boston March for Our Lives event is scheduled to run from noon until 5 p.m. At the time of writing, a route for the march has not yet been released, but the march is expected to end with speakers and performances on Boston Common. As of the morning of Feb. 28, the Facebook event page for the rally, titled March for Our Lives: Boston, had over 12,000 people listed as "going," and more than 48,000 listed as "interested."