Catholic Charities hosts panel on refugee experience
---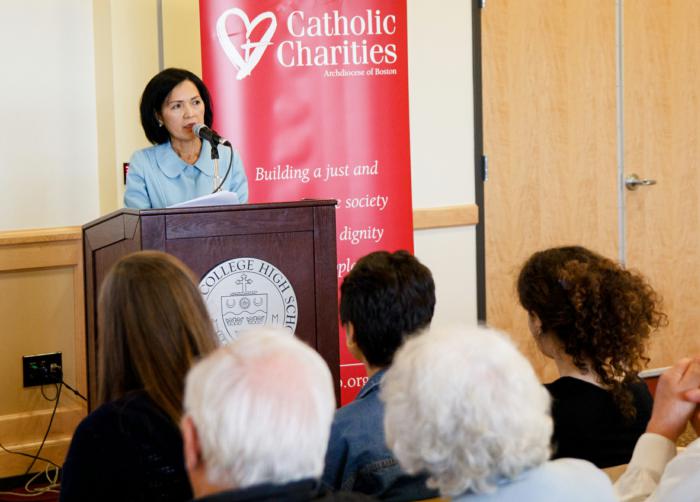 Mary Truong, executive director of the Massachusetts Office for Refugees and Immigrants speaks at the Catholic Charities panel discussion on the plight of refugees June 17. Pilot photo/Mark Labbe
Help us expand our reach! Please share this article
BOSTON -- Experts on immigration and refugees spoke on whether welcoming refugees is still an American value during a panel discussion held at Boston College High School, June 17, and hosted by Catholic Charities of the Archdiocese of Boston.

The panel, as well as an interactive simulation that gave participants a taste of what it's like for a refugee to apply to enter the country, were held in celebration of the internationally recognized World Refugee Day, June 20.

Panelists for the event included Dr. Westy Egmont, director of the Immigrant Integration Lab at Boston College; Msgr. Robert Vitillo, secretary general of the International Catholic Migration Commission (ICMC); and Mary Truong, executive director of the Massachusetts Office for Refugees and Immigrants (ORI). Marjean Perhot, director of Catholic Charities Refugee and Immigration Services, spoke as well, and introduced each of the panelists.

Father Bryan Hehir offered an opening prayer, and Catholic Charities of the Archdiocese of Boston president Debbie Rambo and Perhot gave words of welcome.

"Globally, we are in a refugee crisis that parallels that after World War II. Nationally, we're in danger of turning our back on the world's most vulnerable and reducing the refugee program to rubble," said Perhot.