Academy of Notre Dame 5th-grader is Doodle4Google finalist
---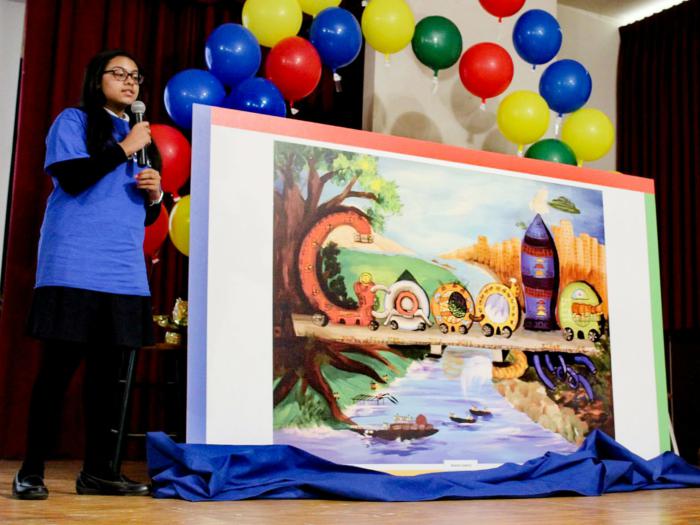 Rianna Santra, a 5th grader at Academy of Notre Dame in Tyngsboro shows off her Doodle4Google design at a presentation at her school Feb. 28. Pilot photo/courtesy Academy of Notre Dame
Help us expand our reach! Please share this article
TYNGSBORO -- For 5th-grader Rianna Santra, competing in the national Doodle4Google competition isn't just about winning the many prizes that comes from being a finalist or a national winner, but it's also about changing the world.

A student at the Academy of Notre Dame in Tyngsboro, Santra entered the Doodle4Google competition, a national contest that encourages young artists to create a special logo for the Google search homepage, late last year and was selected to be one of only 53 state and territory finalists.

Keeping with this year's theme of "What I See for the Future...," Santra's doodle depicts a future in which there is a "mobile food producer that generates multiple cells from one cell, clean water produced from air, reusable metal made from garbage and a mobile hospital for emergencies" that will make the planet "safe and healthy," reads her description of her artwork on the Doodle4Google website.

"I See the World as Safe, Healthy, and Energy Efficient," is the title of the piece.

Santra, speaking to The Pilot March 22, said she hopes her doodle will inspire people to "think about what they're doing to hurt the earth" and get them to "actually recycle and help reuse."

"You're using plastic bags to get groceries? No, get your own bags," she said.