First 'Gold Mass' for scientists to be held at MIT Nov. 15
---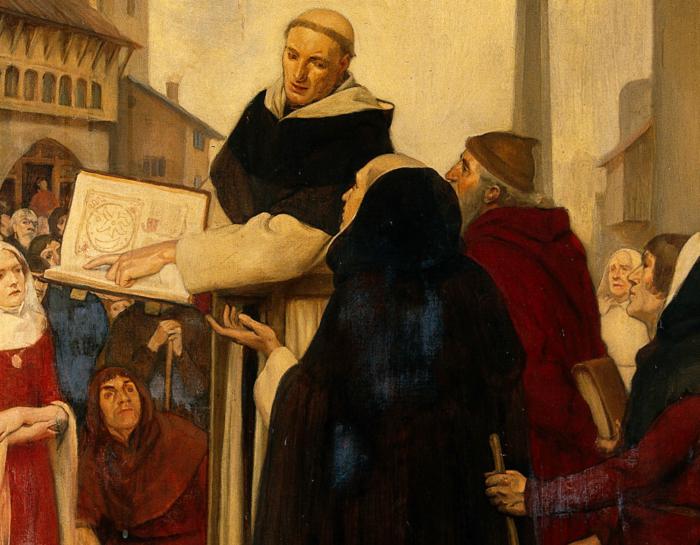 St. Albert the Great is depicted expounding his doctrines of physical science on the streets of Paris in this 13th century painting. The Society of Catholic Scientists will hold their first Gold Mass for Catholic scientist at MIT on the saint's feast day, Nov. 15. CC BY 4.0/ Wellcome Library, London
CAMBRIDGE -- St. John Paul II wrote about faith and science, "Science can purify religion from error and superstition; religion can purify science from idolatry and false absolutes."

Contrary to the belief that faith and reason are at odds, the late pope believed that the two are necessary partners. Together they can enrich, nourish and challenge each other to be fully what they are called to be, he wrote to the director of the Vatican Observatory in 1988.

He referred to Catholic scientists as a "key resource" in uniting science and religion.

A group of American Catholics have recently united to form the Society of Catholic Scientists. Their first event will be a Gold Mass for scientists, held at the Massachusetts Institute of Technology's chapel on Nov. 15 at 5:15 p.m. Catholic scientists, including science educators and students, are encouraged to attend. The group is in the process of planning another Gold Mass in Providence, Rhode Island and hopes that the tradition will spread throughout the country and all over the world.

The Mass follows in the tradition of special Masses for members of a particular profession. The oldest, the Red Mass for lawyers and lawmakers, was introduced in the 13th century. The first White Mass for healthcare professionals and Blue Mass for law enforcement were held in the 1930s.