Cardinal thanks altar servers for service at Mass
---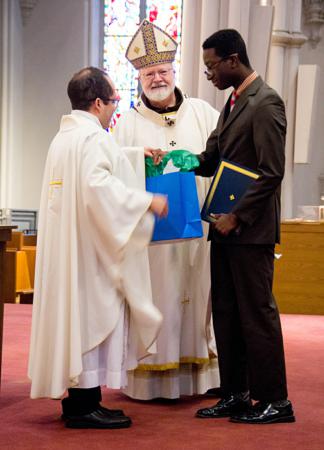 Cardinal O'Malley presents the Pope St. John Paul II Award to senior altar server Michael Egbueze of St. Patrick Parish, Roxbury. Pilot photo/Mark Labbe
SOUTH END -- High school senior and altar server Louise Waugh had seen Cardinal Seán P. O'Malley a number of times on TV, but had never gotten a chance to meet him.

That is, until he thanked her and presented her with an award for her service to the Church at this year's annual Altar Server Appreciation Mass, Oct. 29, at the Cathedral of the Holy Cross.

"It was actually kind of overwhelming... I was really nervous to get it in front of all these people," she said of receiving the St. Teresa of Calcutta Award for her service at Our Lady of Lourdes, part of the Tri Parish Collaborative in Brockton.

But, she added, "It was good to meet him and get this award."

"To hear you're going to get an award out of all these kids... the feeling is great," she said.

Waugh was one of eight altar servers to receive an award at the Mass, and was one of dozens of altar servers from around the Archdiocese of Boston who attended it.

The St. Teresa of Calcutta Award is presented to "two junior servers and two senior servers who have shown exemplary service to their parish and their community by their imitation of St. Teresa of Calcutta." A junior altar server is defined as a young person who is not yet in 8th grade, while a senior server is a young person who is in 8th to 12th grade.