Trooper's widow urges voters to reject legalizing marijuana
---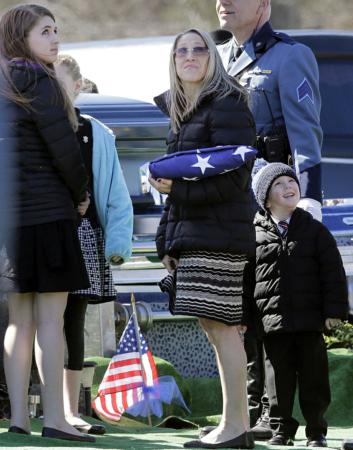 In this March 22, 2016 file photo, Reisa Clardy, the widow of Mass. State Trooper Thomas L. Clardy, holds a folded flag as she and her children watch balloons fly during his funeral in Hudson. As Massachusetts voters prepare to decide whether to legalize recreational marijuana use, the widow of a state trooper and father of seven killed when a driver high on marijuana barreled into his cruiser, is making an emotional plea against a ballot question that would legalize recreational marijuana. AP Photo/Elise Amendola, File
BOSTON (AP) -- The widow of a state trooper killed by a driver accused of driving under the influence of marijuana is making an emotional plea against a ballot question that would legalize recreational pot.

Trooper Thomas Clardy, a father of seven, was killed in March when a medical marijuana patient crashed his vehicle into Clardy's cruiser. In a new web video, Reisa Clardy said she believes there will be more accidents and more fatalities if voters approve Question 4 on the Nov. 8 ballot.

The driver, David Njuguna, of Webster, has pleaded not guilty to manslaughter, operating under the influence of drugs and other charges in Thomas Clardy's death. When he was arraigned in May, Njuguna's lawyer, Peter Ettenberg, said Njuguna "absolutely denies he was under the influence of any drugs." Ettenberg declined to comment further Oct. 25.

Reisa Clardy said her husband was "a wonderful father" who always put his family first. She said his death changed their family's lives.

"My husband's not here anymore. Daddy's not going to come walking through that door one day," she said in the video.

Thomas Clardy had stopped a car for a traffic violation in Charlton when his cruiser was hit by Njuguna's vehicle. Witnesses said Njuguna's car swerved across all three travel lanes without slowing.

Prosecutors allege that Njuguna obtained three marijuana cigarettes from a medical dispensary for marijuana an hour before the crash.