From Cardinal Seán's blog
---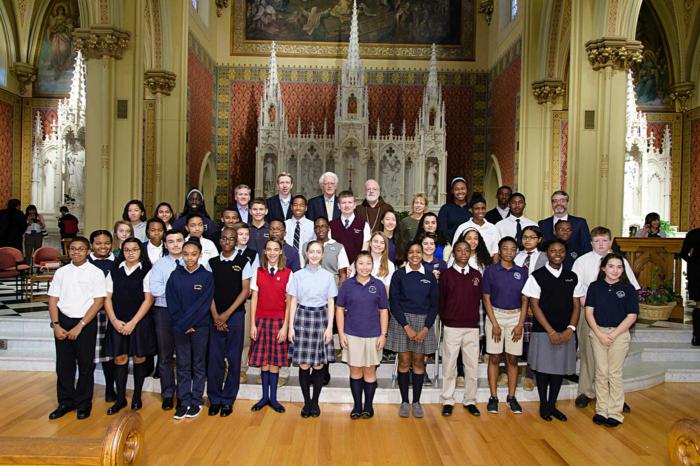 'Wednesday (10/19), I went to Our Lady Help of Christians Church in Newton to celebrate the annual Lynch Scholars Mass sponsored by the Catholic Schools Foundation.' Pilot photo/CardinalSeansBlog.org
...on Sunday (10/16) I went to Winchester to celebrate the 50th anniversary Mass at St. Eulalia Parish. It was a very beautiful celebration, and I was so impressed by the music there. They had a very beautiful choir, as well as a wonderful children's choir, but the congregational singing was just extraordinary. Would that every parish in the archdiocese had that kind of participation in the Eucharist! It was really a very uplifting experience.

It was also very uplifting to see how many of the people who were there were original parishioners. In other words, they have been part of the parish for 50 years, including Bishop Peter Uglietto's family. His uncle lived just across the street from the church. So, Bishop Uglietto joined us for the Mass, as well as former pastors including Father Tom Nestor and Monsignor Frank McGann. Father Jim Savage is doing a great job there and I think people really appreciate his ministry. He had been stationed there before as associate pastor and is now the pastor.

Question 4

Tuesday (10/18), we had a meeting at the Pastoral Center to discuss the response of the religious community in Massachusetts to Ballot Question 4. We are very concerned about the inclusion of this initiative, which would legalize the commercialization of marijuana in our state.