Archdiocesan Justice Convocation to focus on mercy
---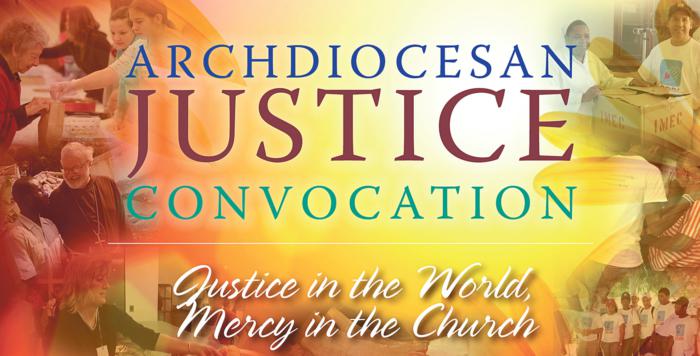 Courtesy graphic
BRAINTREE -- The Extraordinary Jubilee Year of Mercy will be ending on Nov. 20, but that's not before this year's Archdiocesan Justice Convocation highlights Catholic social teachings in relation to mercy on Nov. 5.

Themed "Justice in the World, Mercy in the Church," the eighth annual Archdiocesan Justice Convocation will feature two keynote talks, a small-group faith-sharing session, Mass, and a number of exhibitors.

It will be held this year at Boston College High School in Boston.

It's the first time in years the convocation will be held somewhere other than the Archdiocese of Boston's Pastoral Center in Braintree, but after people had to be placed on a waiting list last year due to building constraints, organizers thought it might be best to move to a bigger venue.

"We reached capacity here, so it was probably a natural move to go to a larger place, and BC High has been very welcoming and generous with their space," said the archdiocese's director of Spiritual Life Mary Ann McLaughlin, speaking from the Pastoral Center.

Taking place from 8:00 a.m. to 1:30 p.m., the Archdiocesan Justice Convocation will begin a greeting from Cardinal Seán P. O'Malley before the two keynote addresses will be given.

The first keynote speaker will be Father J. Bryan Hehir, the archdiocese's Cabinet Secretary for Health and Social Services.