From Cardinal Seán's blog
---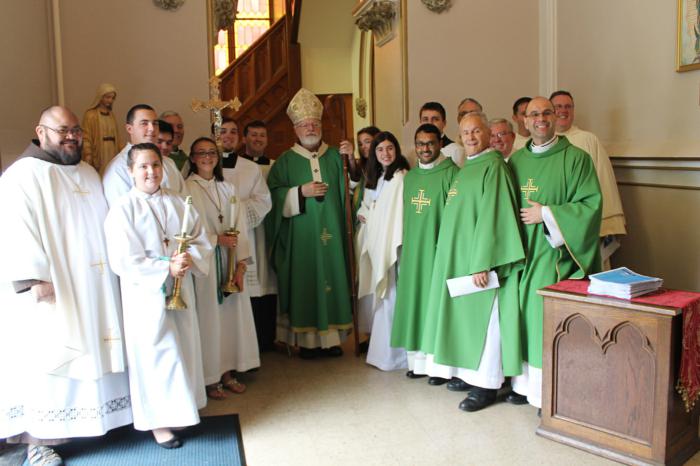 'By Sunday (10/2) I was home in Boston to celebrate the 150th anniversary Mass of St. Mary Parish in Dedham.' Pilot photo/CardinalSeansBlog.org
By Sunday (10/2) I was home in Boston to celebrate the 150th anniversary Mass of St. Mary Parish in Dedham. We had the anniversary celebration of the parish with their new pastor, Father Wayne Belschner. The church, of course, is very beautiful. Father Bill Kelly, before leaving, led the renovation efforts there.

I also complimented the parish on their promotion of vocations -- a number of seminarians and consecrated women have come out of that parish. ...They are particularly blessed with a wonderful Life Teen ministry, which has made such an impact.

I was so pleased to be part of the observance of their 150th anniversary. It was a very joyful celebration.

Transitus

The following day was Oct. 3 and I joined my fellow Capuchins at San Lorenzo Friary for the celebration of the Transitus of St. Francis. In all of our monasteries -- as the other Franciscan brothers and sisters do -- we celebrate the anniversary of St. Francis's death. He died on Oct. 3 at the Portiuncula in Assisi.

The Transitus ceremony consists of reading the accounts of his death from the ancient biographies, reading the Gospel that Francis had read when he was dying, as well as the singing of the Transitus and praying Psalm 142 which Francis was praying when he died.