New Pro-Life offices blessed on Respect Life Sunday
---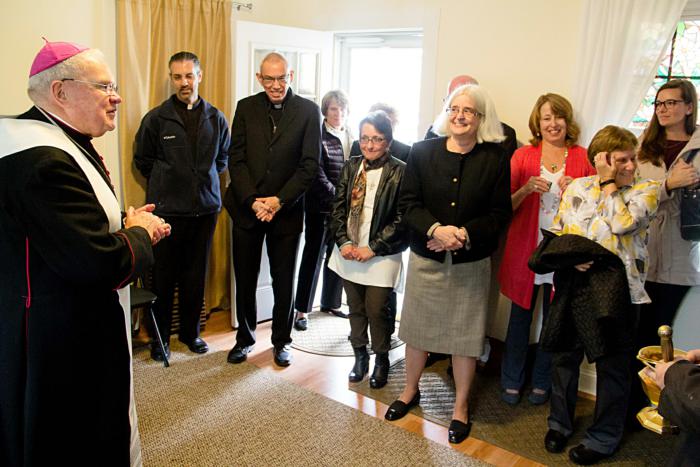 Bishop Walter Edyvean addresses guests at the blessing of the Pro-Life Office's new location on grounds of St. Patrick Parish in Natick, Oct. 2. Pilot photo/Mark Labbe
NATICK -- "Moved by Mercy" was the theme of this year's Respect Life Sunday, Oct. 2, and it's a theme that plays a prominent role in the work of the Archdiocese of Boston's newest location for the Pro-Life Office.

Located in a former house on the grounds of St. Patrick Parish in Natick, the office was blessed on Respect Life Sunday by retired Bishop Walter Edyvean.

Before the blessing, Bishop Edyvean celebrated Mass at St. Patrick Parish, and in his homily recalled a time when he worked with the Pro-Life Office.

"There, I witnessed staff and volunteers, absolutely devoid of any judgmental attitude, showing tenderness to women and babies, and at times to fathers, while exercising professional competence who sought assistance of the office," he said.

"One has to recognize also the ability, the faith, and the concern for life on the part of those who sought assistance of the office," he continued.

The bishop noted the mercy, faith, and humility that pro-life activity require, saying that the endeavors "not only require faith and humility, but they have shown faith and humility to the rest of the Catholic community."

"Faith and humility will prompt anyone who has been involved in the work to consider this Pro-Life Sunday as a celebration of thanksgiving to God for what he has allowed them to accomplish," Bishop Edyvean said.