Regina Cleri strengthening bonds with neighboring West End parish
---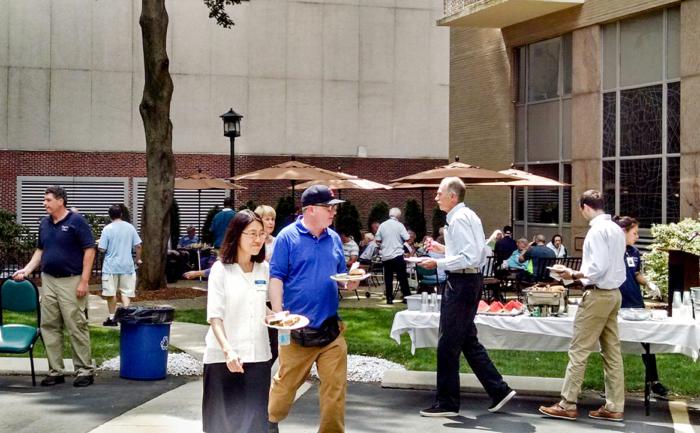 Guests from Regina Cleri and St. Joseph Parish in Boston's West End enjoy a joint cookout last month. Pilot photo/courtesy Regina Cleri
WEST END -- For years, the retired priests living at the Regina Cleri residence for retired priests and the parishioners of the neighboring St. Joseph Parish have maintained a friendly relationship, and that relationship has lately been growing even stronger.

It started this summer, when Regina Cleri held a cookout and asked the parishioners of St. Joseph to join.

The cookout "was kind of an introduction for us just to say hello," said Stephen Gust, director of Regina Cleri.

Around 50 to 60 parishioners attended the cookout, where they were able to connect with the retired priests in a casual atmosphere and tour Regina Cleri.

Gust hailed the cookout as a success, and since then Regina Cleri and St. Joseph have been collaborating on potential future events and activities to draw the residents and the parishioners closer together.

One such event is a dinner show being planned by St. Joseph Parish.

"We're in the stages of planning an evening of entertainment and dinner -- a dinner show, if you will -- that will be on-site at St. Joseph's for the residents of Regina Cleri," said Father Joe White, pastor of St. Joseph Parish.

Singing waiters and waitress would work the dinner, and a themed show would follow it.

"We have a few folks that are going to bring talent for the show," said Father White, who noted that the theme of the show is still being debated.