Cardinal O'Malley's statement on Sept. 11 anniversary
---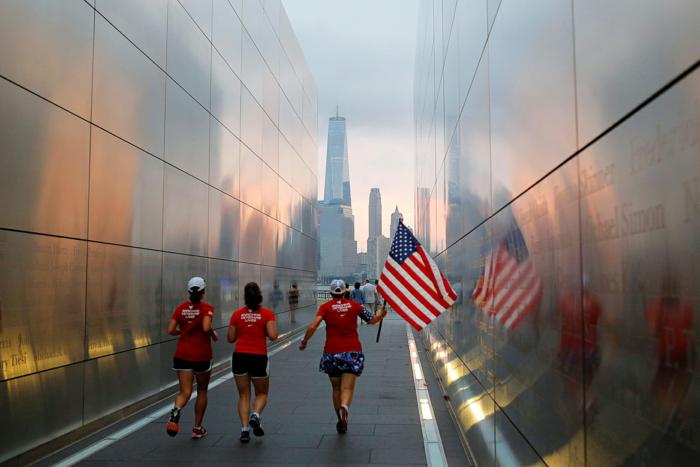 People run through the Empty Sky memorial in Jersey City, N.J., at daybreak over lower Manhattan on the morning of Sept. 11, the 15th anniversary of the terrorist attacks that claimed the lives of nearly 3,000 people in New York City, Shanksville, Pa., and at the Pentagon. CNS photo/Andrew Kelly, Reuters
Following is a statement by Cardinal Seán P. O'Malley released Sept. 11 marking the 15th anniversary of the 2001 terror attacks.

Anniversaries, be they of joyful, sad or tragic events, are times of reflection, moments of gratitude or sorrow accounting for lessons learned and hopes for the future. The 15th anniversary of the 9/11 attacks is a day which warrants prayerful attention in the Catholic community and deserves thoughtful reflection in our nation as a whole.

The first priority for our archdiocese is remembrance of those lost in these unconscionable attacks. The celebration of the Eucharist reminds us that the light of Christ is not extinguished by darkness and evil. This Sunday we pray in a special way for the innocent civilians and the public safety first responders whose lives were taken when hijacked planes were used as means of destruction in New York, Washington and Pennsylvania, and for the families and loved ones of the victims. We also remember all those in the military, government service who have made the ultimate sacrifice of service in the international conflicts which have engulfed the world since September 11, 2001. As Catholics our prayer extends to all who people who have died in these conflicts and to the tens of thousands of refugees driven from their homes and lands.