Cardinal recounts encounters with Mother Teresa
---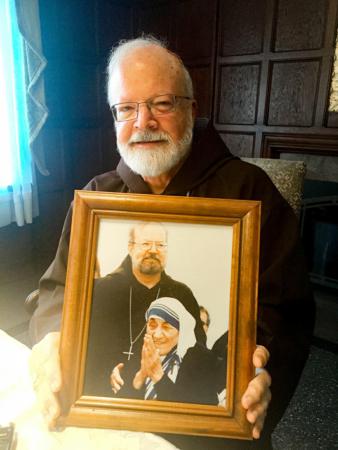 Photo courtesy Cardinalseansblog.org
Below are excerpts of Cardinal Seán P. O'Malley's post entry published in CardinalSeansblog.org Sept. 2.

Of course, this week we are all looking forward to the canonization of Mother Teresa in Rome on Sunday.

Probably after Pope John Paul II, she is the person most seen and most known by Catholics in the world today because of her extensive travel, presence and missionary experience. Her canonization, coming as part of the Jubilee Year of Mercy, is a wonderful tribute to her vocation and the work of the Missionaries of Charity.

I first met Mother Teresa as a young friar when I was teaching at Catholic University of America, even before my ordination. We were informed that the university was going to honor a missionary nun, and that there would be some sort of a convocation at Caldwell Hall, which is a medium-sized auditorium.

To be honest, at first, I just kind of ignored it. But then later I thought, "Well, not many people are going to go to this, and I'm a religious and this poor missionary is here, so I should at least show up."

So, I went to Caldwell Hall and, sure enough, there were only about 20 or 30 people in the whole auditorium. To my surprise, the Cardinal Archbishop of Washington was there on stage and with him there was a laywoman and a small Indian woman, who I thought they must have brought along.