Group challenges 'Know Nothing' governor's anti-Catholic legacy
---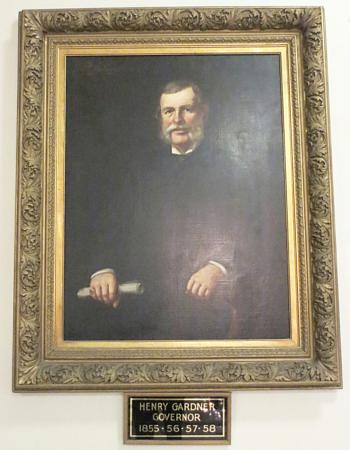 The portrait of Know-Nothing party Gov. Henry Gardner that hangs in the State House. Pioneer Institute photo via Twitter
BOSTON -- For years, the portrait of the 19th century Massachusetts Gov. Henry Gardner has hung in the State House just outside the House of Representatives. But that, as well the legacy Gardner has left in the Massachusetts constitution, are things that Catholic advocates and the Pioneer Institute say need to change.

"It should trouble Massachusetts residents that the portrait of Gov. Henry Gardner, a member of the nativist 'Know-Nothing' party, hangs in the State House right next to the main entrance of the Massachusetts House of Representatives," said Pioneer Institute Executive Director Jim Stergios.

"Just as the portrait should be moved from its prominent spot on the wall of our State House, so should two bigoted amendments that are the Know-Nothings' legacy be struck from the commonwealth's Constitution," he continued.

The Know-Nothing party, as it was commonly called due to the party's semi-secretive origins, was an American political party that was prominent in the 1850s. At a time when many people in the United States were Protestants, the party deeply opposed the large number of Catholic immigrants flowing into the country.

The party gained power quickly in a number of states, including Massachusetts, in the mid-1850s, although their political prominence was short lived. Yet, for the few years the party members did have political power, they passed laws and amendments that sought to oppress Catholics and immigrants in the country.