Local Catholic school alumni active at Rio Olympic games
---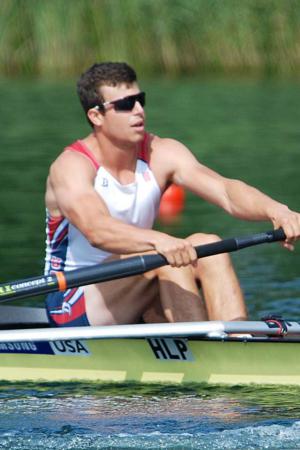 Michael DiSanto, an alumnus of Mount Alvernia Academy in Chestnut Hill, is competing in the 2016 Summer Olympics in Rio, Brazil as a member of the USA Rowing Team. Courtesy photo/ww.usrowing.org
BRAINTREE -- The 2016 Summer Olympics Games in Rio, Brazil is an international event, but for three schools in the Archdiocese of Boston, it hits close to home.

Brianne Camilleri, an alumnus of Central Catholic High School in Lawrence, Jimmy Pedro, an alumnus of St. John's Preparatory School in Danvers, and Michael DiSanto, an alumnus of Mount St. Alvernia Academy in Chestnut Hill, are each playing key roles in this year's Summer Olympics, which runs from Aug. 5 to Aug. 21.

Camilleri, Central Catholic class of 2001, is the General Manager of the Olympic Organizing Committee responsible for the "Copacabana cluster" of events, which includes sailing, beach volleyball, the triathlon, marathon swimming, road cycling, and rowing.

In order to work in this role, Camilleri lived in Rio for the past two years, and will remain there for the Paralympic Games, which will run from Sept. 7 to Sept. 18.

This is Camilleri's third time working as an organizer for the Olympics -- she also worked as an Organizing Committee member for the 2010 Winter Olympic Games in Vancouver and the 2012 Summer Olympic Games in London.