From Cardinal Seán's blog
---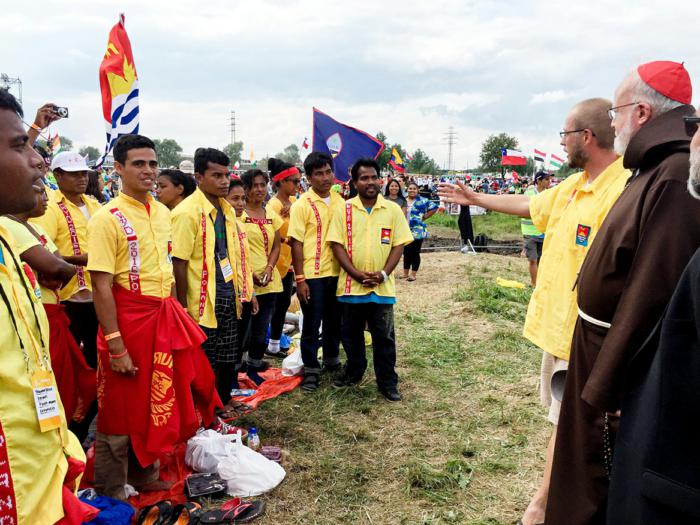 "I was very happy that at the meeting I was able to greet the group of 24 young people from the Pacific island nation of Kiribati led by Przemyslaw Kasprzak, one of our Boston seminarians who has been working there for about a year.'' Pilot photo/Cardinalseansblog.org
As I mentioned last week, I had been giving different catechesis for participants at World Youth Day in Poland, and on Friday we had the last of these in Wadowice.

The catechesis was held outdoors in the plaza, which was filled with young people from throughout the world, including our youth from the Cathedral of the Holy Cross in Boston.

The plaza is just outside the church where Pope John Paul II was baptized, received his first Communion and was confirmed.

Right next to the church is his childhood home. His family had an apartment on the second story of a building that belonged to a Jewish merchant. On the first floor was the store, and they lived in a three-room apartment above it. That whole building has now been turned into a museum, which is very well done. There are a number of interactive exhibits and articles from his life and upbringing.

I was particularly struck by a wall with letters from all over the world attesting to his sanctity sent in during the process of canonization.

As I say, the apartment is just next door to the church. They say that when Karol Wojtyla's mother was giving birth in that apartment, she could hear the people in church chanting the Litany of Loreto. They were so close.