Pope names two new auxiliary bishops for Boston
---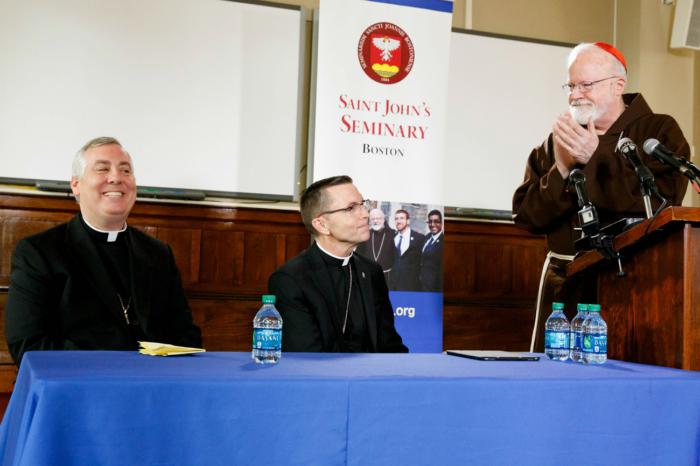 Cardinal Seán P. O'Malley applauds Bishops-elect Mark O'Connell and Robert Reed at the June 3 media availability held following the Vatican's announcement of the appointments. Pilot photo/Gregory L. Tracy
BRIGHTON -- Following the Holy See's early morning June 3 announcement that Pope Francis named Father Robert P. Reed and Father Mark O'Connell auxiliary bishops of the Archdiocese of Boston, the archdiocese introduced the two new bishops-elect to the media at a press conference held at St. John's Seminary the same day.

"The Archdiocese of Boston is blessed to have two new auxiliary bishops who will assist Cardinal Seán in his task of shepherding and leading the nearly two million Catholics who reside in this local Church," said Vicar General Bishop Peter J. Uglietto, who introduced Bishops-elect Reed and O'Connell.

The bishops-elect, seated at a table with Bishop Uglietto and Cardinal Seán P. O'Malley, gave statements and answered questions from the media.

Bishop-elect Reed is currently President and CEO of iCatholic Media, the parent organization of The Pilot, as well as serving as the archdiocese's Cabinet Secretary for Catholic Media. Bishop-elect O'Connell serves as Judicial Vicar of the archdiocese, and is on the faculty at both St. John's Seminary and at Pope John XXIII Seminary.

"It has been a very humbling and sobering experience," said Bishop-elect Reed in his remarks.

"This really is about our continuing work together in building up the Church here in this great archdiocese," he continued.

He said he is filled with optimism about the future, noting that "we stand at a very important moment" in the life of the Church.